Product Sustainability
We are committed to environmentally sound practices in our work to discover and develop innovative medicines to treat patients suffering from serious illnesses around the world. Amgen is improving sustainability in many aspects along the life cycle of our products including in research, development, manufacturing, packaging, and disposal.

Sustainable Research and Manufacturing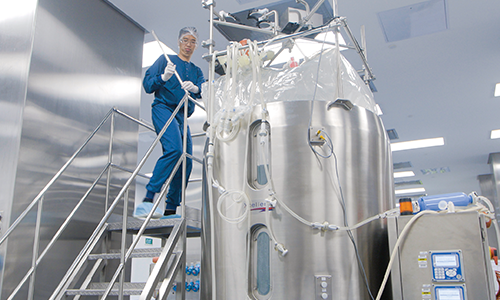 Amgen helped invent the processes and tools that created the global biotech industry. As we continue to grow and innovate, we are pioneering advanced technologies for research and development and manufacturing to increase operational efficiency, improve access to our medicines and reduce our environmental footprint across a range of drug modalities.
Amgen has pioneered modular, flexible next-generation biomanufacturing technologies that are more environmentally friendly than conventional biomanufacturing. Our next-generation biomanufacturing plant in Singapore uses a fraction of the energy and water in manufacturing when compared with the manufacture of the same amount of product in a traditional facility.
In the areas of medicinal chemistry research and synthetic drug development and manufacturing, Amgen has a well-established and distinguished track record for using green chemistry practices. As we continuously seek to discover and make medicines for patients more quickly and affordably, green chemistry practices become ever more enabling of this goal. As a key example, Amgen was honored with a 2017 Green Chemistry Challenge Award from the U.S. Environmental Protection Agency for green chemistry practices, developed in partnership with Bachem, that we applied to the development and manufacture of the synthetic peptide drug Parsabiv™ (etelcalcetide). The core of this award-winning approach was the switch to a new process that reduces the use of solvent by thousands of liters along with weeks of production time per batch of medicine. This work was also highlighted in the Journal of Organic Chemistry in a 2019 paper titled "Sustainability Challenges in Peptide Synthesis and Purification: From R&D to Production" that was co-authored by Austin Smith, a senior scientist in Amgen's Drug Substance Process Development group who is chair of Amgen's Process Development Green Chemistry team.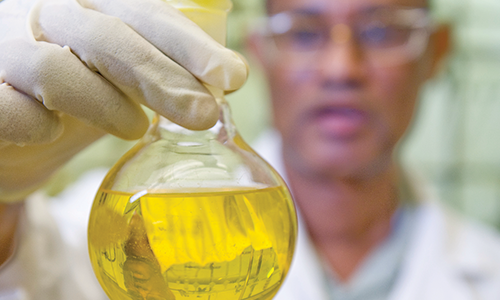 There are other examples in projects across the development cycle at Amgen where green chemistry combined with out-of-the-box thinking is creating benefits. A highlight includes the use of engineered enzymes to perform new and novel transformations, which before could only be accomplished with precious metal catalysts requiring certain controls to mitigate hazardous conditions. In another example, we are using light-induced cycloaddition to reduce process time and eliminate the use of hazardous reagents like cyanide and bromine. As these examples show, green chemistry is a critical enabler for the advancement of our portfolio of products, not just something we do when it is easy or convenient.
In overall process innovation, we are continuing to strengthen our capabilities in synthetics continuous manufacturing. This nimble approach, where material is made in small containers rather than large tank reactors, can help to reduce the manufacturing footprint, conserve energy and help us overcome challenges related to the implementation of certain chemical reactions. This capability provides for precise control of variables, such as temperature to mitigate safety risks associated with high or cryogenic temperature operations, and enables the use of reactive intermediates that would be challenging to control in batch mode. To facilitate the development of continuous manufacturing, our scientists designed new and flexible hood enclosures. We are also pursuing a variation of continuous manufacturing for the manufacture of biologic molecules to continue to optimize processes, increase speed, reduce costs and improve the environmental footprint associated with developing and manufacturing medicines.
In 2017, we assessed two platform approaches in our biologics portfolio to calculate process mass intensity—a measure of material and resource efficiency in drug substance manufacturing. These calculations are intended to serve as benchmarks against which to measure future process changes across our Process Development organization including changes in the environmental footprint of the manufacture of our medicines.
Staff Engagement/Industry Partnerships
Amgen staff have a history of participation in green chemistry teams that promote more environmentally friendly practices and give prizes for most innovative green practices that save energy and water and reduce waste. A staff engagement program to encourage our researchers to shut the window sashes of their fume hoods when not in use continues to provide operational cost savings and improve our green footprint. In 2018, world-renowned chemists Dr. B. Frank Gupton and Dr. Tyler McQuade from Virginia Commonwealth University spoke to staff about streamlining organic synthesis through process intensification as featured speakers at Amgen's annual green chemistry symposium.
Amgen participates in the American Chemical Society (ACS) Green Chemistry Institute (GCI) Pharmaceutical Roundtable to share and learn best practices for more sustainable research and development and manufacturing of medicines. Staff members participate in ACS GCI Pharmaceutical Roundtable subgroups related both to synthetic molecule and biologic molecule processes. Amgen Senior Scientist Brian Sparling is chair of Amgen's Medicinal Green Chemistry group as well as the leader for the American Chemistry Society (ACS) Green Chemistry Institute Pharmaceutical Roundtable Medicinal Chemistry subteam. To promote more sustainable practices in our biologics research and development and manufacturing, Larry Sun, senior engineer, also participates on the ACS GCI Pharmaceutical Roundtable's Biofocus Group. Amgen is also a sitting member on the IQ Green Chemistry working group, a collaborative team that focuses on driving innovation and awareness of green chemistry in the pharmaceutical industry.
Our scientists are engaging in efforts to bring green chemistry knowledge to educators and students. In 2018, Brian led a cross-industry "Green Chemistry in the Pharmaceutical Industry" workshop at Massachusetts Institute of Technology in affiliation with the American Chemical Society Green Chemistry Institute Pharmaceutical Roundtable, with representation from Amgen, Merck, Pfizer, Biogen, Novartis and the American Chemical Society. Also, in 2018, members from Amgen's Medicinal Chemistry team spoke about the benefits of green chemistry approaches with students at Caltech, Pepperdine, UMass Boston and Stanford. Other educational settings in which Amgen scientists have presented include the Warner Babcock Institute/Beyond Benign, the Northeastern University American Chemical Society undergraduate student chapter, Stanford University's Johnson Symposium and Boston College. Amgen scientists have served as panelists on IQ webinars highlighting the importance of green chemistry in the pharmaceutical industry.
Papers and Presentations
In 2019, Larry Sun contributed to a paper "Introduction of a Process Mass Intensity Metric for Biologics," published in the journal, New Biotechnology, which highlighted how metrics such as process mass intensity can help identify areas for improvement in the environmental footprint of the manufacture of biologic medicines.
Austin Smith co-authored a 2018 paper in Green Chemistry titled "Inspiring Process Innovation via an Improved Green Manufacturing Metric: iGAL." The paper focuses on new green metrics to enable a more impactful quantitative analysis of process waste in pharma manufacturing.
Brian Sparling contributed to a 2017 paper "Sustainable Practices in Medicinal Chemistry Part 2: Green by Design" in the Journal of Medicinal Chemistry.
Austin and Brian presented a poster on "Greenness at Amgen" at the ACS Green Chemistry and Engineering Conference in June 2017, and Brian chaired a session at the conference on new green chemical methodology.
Recycling in Our Plants and Labs
We seek to reduce waste associated with research and manufacturing when possible. We have expanded capability for recycling waste associated with research and manufacturing, including the recycling of plastics, foam rubber and glass.
Pharmaceuticals in the Environment
Amgen's Commitment to Understanding, Managing, and Monitoring Pharmaceuticals in the Environment
In recent decades, small amounts of pharmaceutical products have been detected in surface water, ground water and drinking water. Understandably, the biotechnology and pharmaceutical industries have seen growing public interest about the potential impacts of pharmaceuticals in the environment (PIE), and the scientific community has increased efforts to study this issue.
Amgen is committed to studying the impacts of PIE as a routine part of assessing the lifecycle and environmental footprint of the company's products at every stage, from development to disposal.
Amgen's Medicines and the Environment
As a biotechnology company, most of Amgen's products are biologic medicines. Biologics are similar to complex proteins that exist in nature. Like naturally occurring proteins, biologics are non-hazardous, biodegradable products. As proteins, biological products break down quickly when exposed to ambient environmental conditions (that include light, air, water, pH, temperature and chemicals). These products don't remain biologically active in the environment for any significant amount of time and therefore aren't considered to be a significant environmental risk.
Amgen's product portfolio also contains some products that are small molecule medicines. These medicines make up approximately 25% of Amgen's product portfolio. To maintain their medicinal properties for longer periods of time in the body, many small-molecule medicines are designed to be stable compounds that don't readily degrade. Due to concerns regarding small-molecule drugs and their potential to persist the environment, extensive testing is required of these drugs as part of the drug development process and before they are marketed. The pharmaceutical industry and scientific community continue to study the environmental impact and potential risks of these medicines.
How Amgen Supports Regulation and Study of PIE
Amgen works collaboratively with the pharmaceutical industry, regulators, stakeholders and the scientific community to comply with all regulations governing the health and safety of medicines, while also participating in efforts to increase understanding of the environmental impact of the company's business and products.
All of Amgen's medicines are evaluated for potential environmental risk as required by guidelines set by the European Medicines Agency and the U.S. Food and Drug Administration for marketing applications.
Amgen complies with Registration, Evaluation and Authorisation of Chemicals (REACH), a regulation of the European Union (EU) administered by the European Chemical Agency (ECHA). REACH addresses the use, import and manufacture of chemical substances within the EU, and their potential impacts on both human health and the environment.
With industry-leading expertise in toxicology, Amgen collaborates with colleagues in the American Chemical Society, the Society for Environmental Toxicology & Chemistry, the Society for Risk Analysis and the Society of Toxicology to study PIE.
Amgen partners with industry organizations such as the Pharmaceutical Research and Manufacturers of America (PhRMA) and the European Federation of Pharmaceutical Industries and Associations (EFPIA) to improve methods to identify and quantify environmental risks of pharmaceutical products.
Amgen has provided suggestions to the European Medicines Agency to improve the science and transparency of its environmental risk assessment guidance.
How Amgen Monitors Its Operations
Amgen ensures compliance with all applicable environmental regulations, including local wastewater agreements that regulate the amounts and types of materials that can be discharged in wastewater. This includes routinely performing internal audits at all manufacturing, research and development and distribution facilities.
At all Amgen sites involved with processes that could affect the environment, staff members are trained to perform their jobs conscientiously and to practice proper disposal of waste, accurate monitoring of environmental discharges and emissions, and appropriate handling of hazardous materials.
Amgen sets high-level performance expectations through the Supplier Code of Conduct to ensure that suppliers worldwide comply with all environmental compliance rules.
Patient Support for Managing PIE
Some of Amgen's products are combination products, which means they are distributed as the medicine or drug product in combination with a delivery device. Amgen provides product take-back programs to help patients responsibly dispose of their used, unused and/or expired combination products or medicines.
Amgen supports the Pharmaceutical Product Stewardship Work Group (PPSWG), which is "a U.S. membership association of major manufacturers of prescription and over-the-counter medicines formed to address household disposal regulations." The PPSWG promotes the safe storage and disposal of medications and provides services to consumers such as community drug take-back kiosks and events.
Product Packaging and Life Cycle
Sustainable Product Design
We have guidelines that include environmental sustainability criteria for the design and development of drug delivery systems that are part of our combination products.
Amgen recycles various waste streams associated with drug delivery systems our engineers test in the development of our combination products. We also shred and recycle associated packaging materials, such as inserts and secondary packaging.
Fill and Finish, Packaging and Distribution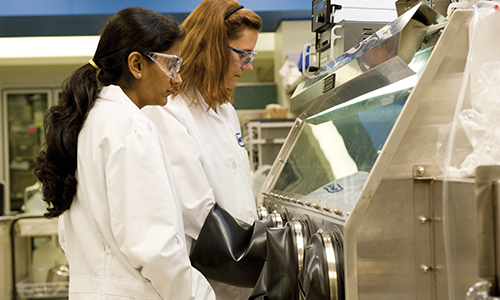 Amgen has made many improvements for sustainability in the work we do to prepare our medicines for delivery to patients. This includes the process of filling vials and other primary containers with drug substance, packaging medicines and shipping.
Amgen has moved from conventional open fill finish rooms to fill finish done with isolator and other technologies that are more environmentally friendly. Isolator technology for drug product manufacturing creates an airtight barrier around a process, eliminating the need for conventional clean rooms. This technology provides substantial energy savings, as much as 60 percent over a conventional clean room.
We follow a green packaging design rating system for product packaging and create more environmentally sustainable secondary packaging designs on a case-by-case basis. Nearly 100 percent of the paper used in all elements of Amgen's secondary packaging for clinical and commercial products is sourced from certified-sustainable forests. Reconfiguring packaging has reduced the environmental footprint of some medicines. We reconfigured the packaging for Neulasta® (pegfilgrastim) Onpro® kit to use 32 percent less paperboard and 68 percent less plastic. In 2018, we developed flexible tray configurations that reduce the shipping footprint of additional medicines.
Year by year, we are expanding the use of reusable shippers for shipping our products. These shippers reduce a substantial amount of packaging material waste and reduce carbon emissions.
Three of our facilities have reached zero-waste-to-landfill status.
Product End of Life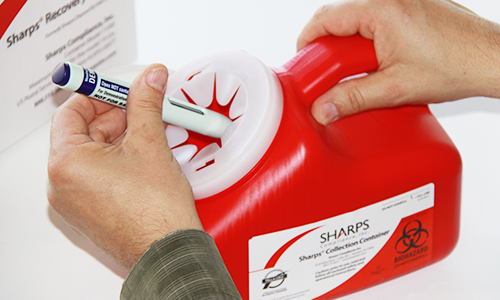 Amgen considers ways to mitigate the environmental impact of our products at the end of use. Amgen provides an environmentally responsible mailback program for the appropriate disposal of medical waste associated with our combination products Enbrel® (etanercept), the Neulasta® Onpro® kit, and Repatha® (evolocumab). In 2018, patients who use these products returned approximately 58 metric tons of medical waste through this service. Material recovered via mailback (including sharps, autoinjectors and containers) is autoclaved, shredded and sent to a waste-to-energy facility for incineration with energy recovery.
Partnering With Suppliers to Promote Environmental Sustainability
Our suppliers are important to Amgen's mission to serve patients and they contribute to the sustainable lifecycle of our products.
The following are some examples where we have partnered with suppliers and industry to advance environmental sustainability in our company.
We collaborated with our manufacturing partner Bachem to develop a process that earned the Environmental Protection Agency's Green Chemistry Challenge Award in 2017.
We worked over several years with our waste processing partner, Triumvirate Environmental, to develop a process whereby previously hard-to-recycle plastics used in manufacturing are sent to be recycled into park benches and pallets. We were one of the first companies to take advantage of this opportunity.
We collaborate with our colleagues at the American Chemistry Society Green Chemistry Institute Pharmaceutical Roundtable, participating on a variety of subteams, to share best practices that promote more efficient and environmentally friendly practices for the process development and manufacture of medicines across the industry.
Amgen contracts and operates more than 90 percent of meetings at hotels that have environmentally friendly practices. Amgen maintains green practices at all meetings when possible, discouraging the use of plastic water bottles and encouraging the use of electronic meeting materials.
For more information, see the Supplier Sustainability section of Amgen.com.