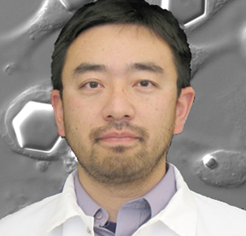 Haruki is a molecular cell biologist specializing in intracellular protein trafficking, protein phase separation, and secretory pathway organelle function. Haruki joined Amgen Seattle in 2005 and relocated to Amgen South San Francisco in 2015. During the past 15+ years in Protein Science and Biologics Departments, he has tackled a number of challenging protein expression problems and elucidated underlying reasons that made these proteins biologically and mechanistically difficult to produce at high levels. To wrestle with 'difficult-to-express' proteins, he has not only developed a series of cell-based diagnostic assays to probe protein folding, trafficking and secretion, but also established a battery of methods to enhance cell's secretory capacity through cell phenotype engineering.
Haruki's long-standing interests are: (1) identifying cargo-specific biosynthetic requirements for a broad class of proteins—encompassing both drug targets and biotherapeutics; (2) determining the effects of disease-associated genetic polymorphisms on protein biosynthesis, protein stability, and subcellular localization; (3) characterizing intracellular protein crystallization and liquid-liquid phase separation events that take place in different subcellular compartments; (4) biotechnological applications of morphometric cell phenotype screenings and intra-ER protein inclusion bodies.
His current research is aimed to understand precise relationships between the type of intra-ER inclusion bodies induced by condensation-prone mAb overexpression and the kinds of solubility problems associated with such mAbs. He has been widely advocating to 'hack' the ER as a 'physiological test tube' to assess developability and manufacturability of therapeutic antibodies and other high value recombinant proteins.
Featured Publications
Haruki Hasegawa‡, Kathy Y. Wei, Melissa Thomas, Peng Li, Francis Kinderman, Heather Franey, Ling Liu, and Frederick Jacobsen — Light chain subunit of a poorly soluble human IgG2 crystallizes in physiological pH environment both in cellulo and in vitro. Biochimica et Biophysica Acta – Molecular Cell Research (2021) 1868(9): 119078 (‡ corresponding author)
https://pubmed.ncbi.nlm.nih.gov/34118277/
Haruki Hasegawa‡ — Simultaneous induction of distinct protein phase separation events in multiple subcellular compartments of a single cell. Experimental Cell Research (2019) 379(1): 92-109 (‡ corresponding author)
https://pubmed.ncbi.nlm.nih.gov/30851242/
Haruki Hasegawa‡, Neha Patel, Ai Ching Lim — Overexpression of cryoglobulin-like single-chain antibody induces morular cell phenotype via liquid-liquid phase separation in the secretory pathway organelles. FEBS Journal (2015) 282(15):2777–2795 (‡ corresponding author) 
https://pubmed.ncbi.nlm.nih.gov/26036200/
Haruki Hasegawa‡, Christopher Woods, Francis Kinderman, Feng He, Ai Ching Lim — Russell body phenotype is preferentially induced by IgG mAb clones with high intrinsic condensation propensity: relations between the biosynthetic events in the ER and solution behaviors in vitro. mAbs (2014) 6(6):1518–1532 (‡ corresponding author)
https://pubmed.ncbi.nlm.nih.gov/25484054/
Haruki Hasegawa‡, John Wendling, Feng He, Egor Trilisky, Riki Stevenson, Heather Franey, Francis Kinderman, Gary Li, Deirdre Murphy Piedmonte, Timothy Osslund, Min Shen, Randal R. Ketchem — In vivo crystallization of human IgG in the endoplasmic reticulum of engineered CHO cells. Journal of Biological Chemistry (2011) 286(22):19917–19931 (‡ corresponding author)
https://pubmed.ncbi.nlm.nih.gov/21464137/
Education
Postdoctoral Fellowship, National Institutes of Health/NICHD
Ph.D., Molecular Cell Biology, The University of Michigan
M.A., Cell Biology, Ball State University
B.Sc., Biology, Yamagata University, Japan