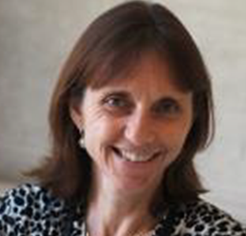 Murielle is an Executive Director of R&D at Amgen. Currently, she heads a group in the Department of Cardiometabolic Disorders, Discovery Research, with a focus on early-stage drug development for obesity and heart failure indications. 
Prior to leading this group, Murielle played a central role in developing Amgen's diabetes program: she was largely responsible for building the in vivo pharmacology group in Thousand Oaks and integrated the San Francisco group in 2011. Since 2000, Murielle has been a key member in the Cardiometabolic Disorders leadership team and has guided both large and small molecule candidates from basic research to Phase 1 clinical trials.
Murielle received her Ph.D. in Pharmacology from the University of Dijon, France in collaboration with Hoffman-La Roche, Basel, Switzerland (Dr. J.P Clozel), where she worked with in vivo models for hypertension and heart failure. She completed postdoctoral trainings at the Centre for Genome Research in Edinburgh (Dr. J. Mullins), Scotland, where she developed a transgenic rat model of vascular lesions that overexpressed prorenin in the liver. She then spent five years at the Gladstone Institute in San Francisco (Dr. S. Young) where she investigated the role of apolipoprotein B in dyslipidemia and atherosclerosis.  Murielle is an author of over 99 scientific articles and is a co-inventor on numerous patents. In 2015, Murielle was profiled in Cell Metabolism, a series article featuring key women in the metabolism field.
Featured Publications
Lu, S.C.; Chen, M.; Atangan, L.; Killion, E.A.; Komorowski, R. Cheng, Y.; Netirojjanakul, C.; Falsey, j. Hale, C.; Stanislaus, S.;Hager, T.; Thomas, V.A.;4 Harrold, J.M.; Lloyd, David J.; and Véniant, M.M.  Cell Reports Medicine. (2021) GIPR Antagonistic Antibodies Conjugated to GLP-1 Peptide Are Bispecific Molecules That Decrease Weight in Obese Mice and Monkeys.
Killion E.A., Wang J., Yie J., Shi S.D., Bates D., Min X., Komorowski R., Hager T., Deng L., Atangan L., Lu SC., Kurzeja R.J.M., Sivits G., Lin J., Chen Q., Wang Z., Thibault S.A., Abbott C.M., Meng T., Clavette B., Murawsky C.M., Foltz I.N., Rottman J.B., Hale C., Véniant M.M., Lloyd D.J. (2018).  Anti-obesity effects of GIPR antagonists alone and in combination with GLP-1R agonists in preclinical models. Science Translational Medicine; 10(472).
Xiong, Y., Walker, K., Min, X., Hale, C., Tran, T., Komorowski, R., Yang, J., Davda, J., Nuanmanee, N., Kemp, D., Wang, X., Liu, H., Miller, S., Lee, K. J., Wang, Z., Véniant, M.M. (2017) Long acting MIC-1/GDF15 molecules to treat obesity: evidence from mice to monkeys. Science Translational Medicine. 9(412).
Véniant M.M., Sivits G., Helmering J., Komorowski R., Lee J., Fan W., Moyer C., Lloyd DJ. (2015) Pharmacologic Effects of FGF21 Are Independent of the "Browning" of White Adipose Tissue. Cell Metabolism; 21(5):731-8.
Lloyd, D.; St Jean, D., Kurzeja, R.; Wahl, W.; Klaus Michelsen, Rod Cupples, Michelle Chen, John Wu, Glenn Sivits, Joan Helmering, Mark H Norman, Kristin L Andrews, Michael D Bartberger, Gwyneth Van, Elizabeth J Galbreath, Steven L Vonderfecht, Minghan Wang, Steven R Jordan, M. M Véniant, Clarence Hale. (2013) Antidiabetic effects of glucokinase regulatory protein small-molecule disruptors. Nature; 504(7480):437-440.
Education
Postdoctoral Fellowship, Gladstone Institute of Cardiovascular disease, San Francisco
Postdoctoral Fellowship, University of Edinburgh, UK
Ph.D., University of Dijon France
B.S., University of Dijon France