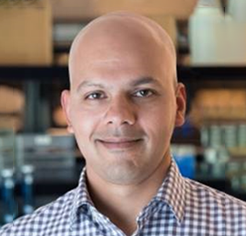 Saptarsi Haldar joined Amgen as Vice President of Research, overseeing the cardiometabolic disease therapeutic area since August 2018. He is a physician-scientist who joined Amgen from the Gladstone Institute of Cardiovascular Disease and University of California San Francisco, where he was a Professor of Medicine. In that role, he ran a laboratory focused on how cells in the cardiovascular system control gene expression and how these gene control mechanisms go awry during disease. His lab had a major interest in congestive heart failure, a very common and deadly condition that affects a large number of adults. More specifically, he has developed therapeutic approaches that target gene-control mechanisms in the stressed and failing heart, a process that has striking similarities to uncontrolled growth in cancers. In addition, his group studies the gene regulatory mechanisms governing substrate and energy metabolism and their role in physiology and disease. Saptarsi received his B.S. from Cornell University and M.D. from Johns Hopkins University. He trained in internal medicine at Johns Hopkins followed by Fellowship training in Cardiovascular Disease at Brigham and Women's Hospital, Harvard Medical School. He has had continuous funding from the National Institutes of Health and has been the recipient of several awards including the Jeremiah Stamler Distinguished Young Investigator Prize, appointment to the board of Associate Scientific Advisors to Science Translational Medicine, election as a Fellow of the American Heart Association, and induction into the American Society for Clinical Investigation. In addition to his academic work, Saptarsi co-founded Tenaya Therapeutics, which is focused on developing therapies for heart failure. Saptarsi is also a board-certified cardiologist who continues to actively see patients on a volunteer basis.
Featured Publications
Anand P, Brown JD, Lin CY, Qi J, Zhang R, Artero-Calderon P, Alaiti MA, Bullard J, Alazem K, Margulies KB, Cappola TP, Lemieux M, Plutzky J, Bradner JE*, Haldar SM*. BET Bromodomains Mediate Transcriptional Pause Release in Heart Failure. Cell 2013; 154:569-582. PMCID: PMC4090947
Morrison-Nozik A, Anand P, Duan Q, Sabeh M, Zhu H, Prosdoscimo DA, Nordsborg NB, Russell AP, Gerber AN, Macrae C, Jain MK, Haldar SM*. Glucocorticoids Enhance Muscle Endurance and Ameliorate Duchenne Muscular Dystrophy through a Defined Metabolic Program. Proc Natl Acad Sci U S A 2015; 112: E6780-E6789. PMCID: PMC4679037
Duan Q, McMahon S, Anand P, Shah H, Thomas S, Lemieux M, Srivastava D, Bradner JE, McKinsey TA, Haldar SM. BET Bromodomain Inhibition Suppresses Innate Inflammatory and Pro-fibrotic Transcriptional Networks in Heart Failure. Science Translational Medicine 2017; 9. pii: eaah5084. PMCID: PMC5544253
Hsu A, Duan Q, McMahon S, Huang Y, Wood SA, Gray NS, Wang B, Bruneau BG*, Haldar SM*. Salt-inducible kinase 1 maintains HDAC7 stability to promote pathologic cardiac remodeling. J Clin Invest. 2020 Jun 01; 130(6):2966-2977. PMCID: PMC7259992.
*Designates co-corresponding authors
Education
Fellowship in Cardiovascular Disease, Brigham and Women's Hospital, Harvard Medical School
Residency in Internal Medicine, Osler Medical Residency Program, Johns Hopkins University
M.D., Johns Hopkins University
B.S., Cornell University