He can be driving in his car, approaching a traffic light, when it goes from green to yellow. Suddenly, there is a tightness that grips him. The paranoia arrives in waves. Is there a police officer nearby? I can't take the risk and accelerate. Might get targeted for speeding. Can't run the light – what if it turns red while I'm going through the intersection?
In those moments, he is filled with anxiety. He has worked too hard and too long to become Professor Stanley Andrisse, a doctor of endocrinology teaching students at Howard University about cells, biology and the causes of hormonal diseases like diabetes. He has rooted himself far too deep into being a loving husband and father to a young daughter.
He has moved too far from being Inmate No. 1132834.
"It's a state of feeling that I could be sent back to prison for any one thing," Andrisse said.
It's been more than a decade since Andrisse was serving time in a state prison for selling drugs. So much has changed in that time and yet, the past can come rushing back at a moment's notice. He still eats too fast sometimes – a habit picked up from prison. Sleep is sometimes disrupted by dreams.
"I witnessed stuff no one should ever have to witness," he said. "I got out and I thought I was unscathed mentally and psychologically. I could not have been more wrong."
Despite the post-traumatic stress disorder (PTSD) he was diagnosed with, he still found his way to becoming a doctor and scientist. He is also a husband and father. Andrisse is now hoping to help others move beyond the stigma of once being incarcerated and having that be a barrier to re-entering society and rebuilding their identity with his nonprofit, From Prison Cells to PhD.
This year, with the help of a $100,000 grant from the Amgen Foundation, the nonprofit hopes to raise awareness about the power of education and its restorative role for the incarcerated. It was one of dozens of grants issued by the Amgen Foundation over the past year aimed at advancing racial and social justice across the United States, including in science education.
A portion of the grant money for Prisons Cells to PhD from the foundation went to create videos highlighting some of the success stories from the Prison Cells to PhD programs. It also ties to the Amgen Foundation's work with LabXchange to make STEM education accessible and to encourage and prepare everyone who has a desire to pursue a career in science.
"Highlighting Dr. Andrisse's powerful story can change people's mindset towards those who have served their time — from unending punishment to unlocking potential," said Scott Heimlich, vice president of the Amgen Foundation. "Through a commitment of more than $10 million to address racial and social inequities, the Amgen Foundation is proud to support organizations like this one across our communities."
Prison in America
According to the nonprofit Prison Policy Initiative, there are more than 2.3 million people being held in 6,000 correctional facilities run by thousands of agencies. The incarceration rate for the United States is 664 per 100,000 people, and 24 states alone have a higher rate of locking people up than the next country on the list – El Salvador, which locks people up at a rate of 562 per 100,000.1
But the rate of incarceration doesn't reflect racial disparities in who is imprisoned, according to the Pew Research Center.
Pew noted this year that the rate of Blacks being imprisoned has fallen by a third since 2006, but there remains a wide gap between Blacks and whites when it comes to prison populations.2
The data, culled from the Bureau of Justice Statistics, showed the rate of incarceration for Black adults was more than five times that of white adults – 1,510 per 100,000 compared to 268 per 100,000. Black adults were also incarcerated at a rate twice that of Hispanics.3
Black Americans make up 12% of the U.S. adult population but represent 33% of the sentenced prison population, according to the Pew report released last year.
It's not much better for Black women, either.
The rate of imprisonment for Black women in 2019 was 83 per 100,000, according to the nonprofit group The Sentencing Project. That rate is almost twice that of white women, who were incarcerated at a rate of 48 per 100,000.4
Systemic racism in the justice system has been documented for years but has taken on a heightened awareness in the wake of the George Floyd murder and the Black Lives Matter movement that has sought to expose racial disparities when it comes to contacts with law enforcement and the court system.
Those disparities start young. Research shows a thread of racial bias that runs from school-aged Blacks who are often more frequently targeted for childhood suspensions, expulsions and subsequent arrests than whites are for similar offenses. Studies also show Blacks are more likely be denied bail and diversion, face harsher charging decisions and poor legal representation that lead to increased risks of wrongful convictions and longer sentences.5
Andrisse said about a quarter of formerly incarcerated people don't have a high school diploma or a GED. He said this was where he saw his chance to make an impact.
"We are literally trying to change the game," he said.
The Game
Andrisse was the youngest of five children growing up in the Ferguson-Florissant area of Missouri. The son of Haitian immigrants, he wrote in his new book "From Prison Cells to PhD" that identity was a struggle from an early age.
"Life as an immigrant family was different. We are different. We even looked different than most Black kids – slightly in our physical features being mixed with Taino natives of the Caribbean and Africans," he wrote. "But mostly in our dress as my Haitian parents didn't know, understand or live by hip-hop, R&B, Black culture."
He said that he learned early on how poverty drove a desire to escape it by any means necessary. Dealing drugs appeared as the more accessible path for black youth in his area and, as a high schooler, he saw the dealers driving fancy cars and flashing wads of cash and he figured it was a way to get ahead. It was "the game."
Despite getting sucked into that world, Andrisse also kept a foot in school and got a diploma and secured a scholarship to play football at Lindenwood University. But he kept dealing drugs throughout college, making hundreds of thousands of dollars trafficking narcotics across state lines.
It all ended for him in 2006, when Andrisse was swept up in a U.S. Drug Enforcement Agency bust that ultimately landed him in prison – staring down a 10-year sentence.
He said nothing prepares a person for prison life. He said he didn't sleep for the first few weeks for fear of being assaulted. Prison time is hard time and requires living in survival mode.
"Constant fight or flight," he said.
Because he had gotten his bachelor's degree and had an education, he began to see that continuing that process was going to be his salvation. He always liked science and biology. Reading, learning and having a goal is what kept him going in prison.
Then he learned his father's diabetes was worsening. He made a commitment to begin studying that disease state and thought he'd like to get a doctorate in endocrinology. He began applying to colleges and that's when he learned how the odds were stacked against him – and others locked up in prison.
Removing Stigmas
The question on job and college applications asking applicants if they have been convicted of a crime fills those who have been convicted with dread—and knowing that this is on applications often causes many to simply not even apply.
Syrita Steib, executive director of the New Orleans-based nonprofit Operation Restoration, said it steals hope and can resign those seeking to get a job or go back to school to believe it's over before they even start.
"You know the places that don't discriminate for hiring based on that?" Steib asked. "Construction, fast food – the job selections are few."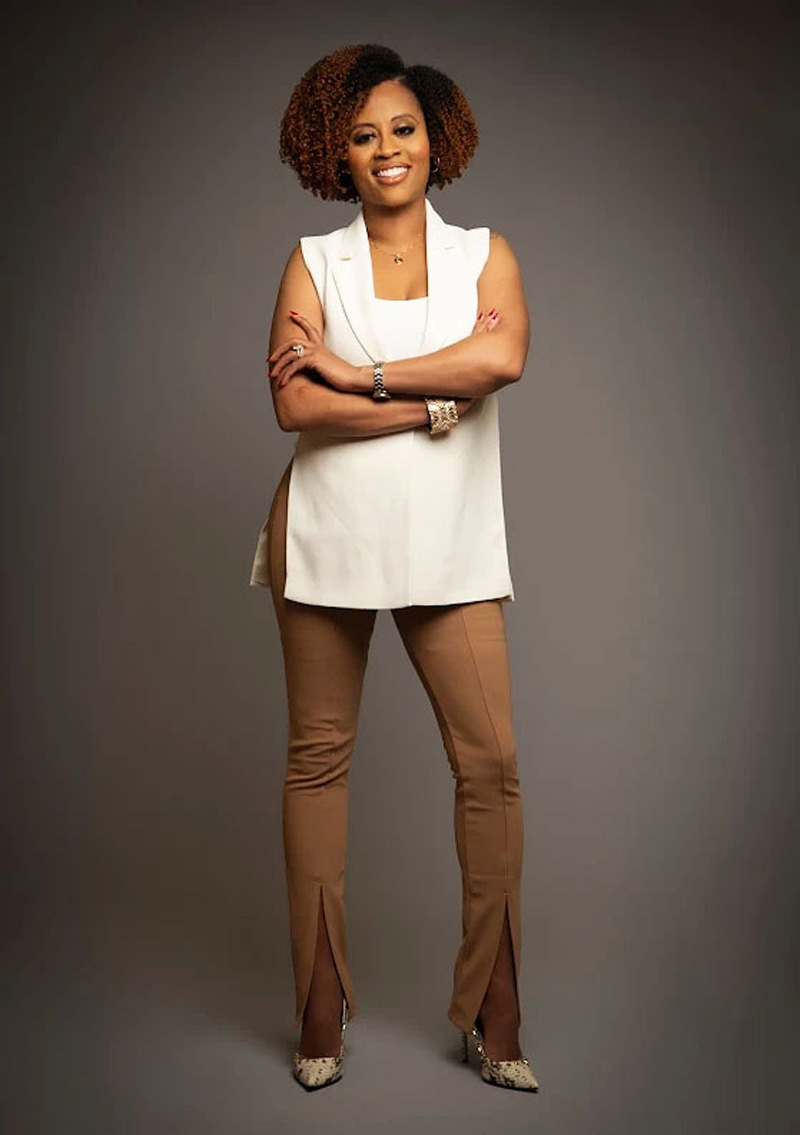 Andrisse has been pushing with his nonprofit to change the laws and remove the stigma of that box on both job and college applications. Steib has fought to change this as well and Operation Restoration was a sub-grant recipient of the foundation grant to Andrisse's nonprofit.
Currently, about a dozen states and several local municipalities have "banned the box" and don't require applicants to answer the conviction question initially. Fewer than a half-dozen states have barred colleges and universities from asking it. California, where Amgen is headquartered, saw a ban the box law take effect in 2018. It prohibits requiring potential hires to disclose criminal histories until they are deeper into the application and hiring process.
When Andrisse was in prison, he was denied entry into every university he applied to – except for St. Louis University. He got in with the help of a mentor and subsequently got his master's degree. He then got his doctorate from there. Graduating near the top of his class, he was offered a research position at Johns Hopkins University. Then came the professor position at Howard University. And the nonprofit he started. Now he's also on a mission to help others.
Never too Late
He has testified on behalf of a federal law that bans the box and has met with lawmakers at state and federal levels attempting to get it changed. He said he is trying to get people to reconsider what redemption looks like.
Andrisse said his nonprofit has helped people across the country, providing education scholarships, mentorships and the recidivism rate among the more than 150 participants that completed the peer to peer (P2P) program is at 1%.
One of the best redemption stories he recalled hearing was of a man imprisoned in Colorado in a prison where he was rarely allowed outside the cell. Andrisse said he was only 17 when he went away for carrying a weapon and for several burglaries.
Majid Mohammad was tried as an adult.
But Andrisse's nonprofit reached Mohammad and he has never forgotten him. Mohammad told of how one night, he could see a sliver of sky and the stars on a clear night and began to dream about what it might take to get into space. Mohammad is now in an astrophysics PhD program and one of the subjects in the video.
"Questions about the design of the universe and how and why it operates the way it does really sparked an interest in my turning to academia," Mohammad said in the video. "However, I didn't think it was possible to earn a PhD in astrophysics – or even earn a PhD in anything."
But Mohammad said he was inspired by other mentors in the P2P program and he now hopes to pay it forward by inspiring others to pursue higher education.
Andrisse said inspiration is a big part of the mission. He wants to provide hope to anyone who is looking for a way forward because any life at any time has the possibility for redemption. Andrisse himself said he is inspired by the words his own father told him before he died several years ago.
They are words that he feels can apply to his life and they are words that he sees in other's lives, too.
It's never too late to do good.
References
"State of Incarceration: The Global Context" Emily Widra and Tiana Herring for Prison Policy Initiative. September 2021
"Black Imprisonment Rate in the U.S. Has Fallen by a Third Since 2006" John Gramlich for Pew Research Center. May 2020
"Prisoners in 2018" E. Ann Carson for U.S. Department of Justice, April 2020
"Incarcerated Women and Girls" The Sentencing Project November 2020.
"A History of Tolerance for Violence Has Laid the Groundwork for Injustice Today" Jennifer Rae Taylor for the American Bar Assocation, May 2019