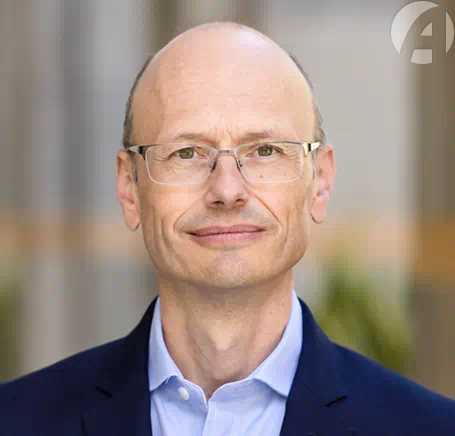 Paul Burton, M.D., Ph.D., F.A.C.C., M.R.C.S., F.R.C.P., became Amgen's Chief Medical Officer (CMO) in June 2023.
Burton had previous experience working for Amgen, as Global Development Leader from 2002 to 2005, following the company's merger with Immunex. Prior to his return to Amgen, he was CMO of Moderna Therapeutics, with global responsibility for all medical strategy as well as patient safety and pharmacovigilance, from 2021 to 2023. Before that, he spent 16 years at Johnson & Johnson, where his last role was Chief Global Medical Affairs Officer.
Burton has more than 20 years of biopharmaceutical industry experience, across all phases of drug discovery and development, spanning small and large molecules as well as mRNA therapeutics. He has also worked across multiple therapeutic areas, including oncology, cardiovascular and metabolic disease, and infectious diseases.
Burton is a physician trained at University of London, in the United Kingdom. He received post graduate training in cardiovascular surgery, and he holds a PhD in molecular and cellular biology from Imperial College, London. He is a Member of the Royal College of Surgeons, a Fellow of the American College of Cardiology, an elected Fellow of the Royal College of Physicians, and has published extensively in clinical and digital medicine.