Cathy Critchlow loves data. She loves the way it sorts information and how it tells a story. She loves a good database that explains the story. Because, in the end, Critchlow always knew the story got to the heart of what she loved the most: helping people.
For 18 years at Amgen, Critchlow did just that. She helped a broad range of people – from doctors and researchers who were trying to understand why some drugs affected people differently to colleagues who leaned on and learned from her expertise to find answers to complicated questions regarding patient outcomes. It was always about people's stories told through numbers.
But Critchlow also had begun taking stock of her own life recently. She has three children in their 30s, a husband to spend more time with, dreams of bicycling in the south of France, learning new languages and expanding skills in another passion of hers: Cooking.
"Life is short and there are no guarantees," Critchlow said. "When you're in your 30s, you think you can do it all and have it all, but you learn over time it's hard to really do all that at the same time."
So, after 18 years with Amgen, the vice president of Research and Development Data Strategy announced this month she was retiring. Her last day will be January 3, 2023.
The Early Years
Critchlow had been interested in math and statistics from an early age growing up in Canoga Park, California.
"I discovered I was good at math and being analytical," she said. "And when I got to college, I took statistics and that just got me into it even more."
Even though she majored in psychology while attending Stanford University, she opted to study biostatistics at the University of Washington. Heading into a field of study then dominated by men, she found herself confronting incidents of sexism and being dismissed in ways her male counterparts weren't.
"In graduate school, I was told by a male faculty member that I must not be serious about my career when I got married after my first year in the program," she said.
That experience – and others – helped spur her to encourage more women to enter the fields of math and science by working with girls at the schools her children attended and mentoring mid-career women who were working hard to balance family and career responsibilities.
After obtaining her master's degree in biostatistics and her doctoral degree in epidemiology, she became a faculty member at the University of Washington, where she focused on infectious disease and reproductive epidemiology. Working 25 years in the university's school of public health, she saw the landscape changing for the epidemiology with the advent of more powerful computers that could crunch data and provide more information about populations and the impact of disease.
During this time, she spent 15 years traveling back and forth to Africa to study the HIV crisis that had gripped the world as well as other diseases in that region. Her studies were based in Dakar, Senegal where she was looking at the relationship between HIV-2 and certain cancers, specifically cervical, which was caused by the human papillomavirus. It was an experience that brought data and numbers to life as she met, face-to-face, the people who needed help.
"There were enormous unmet public health needs," she said. "A tremendous number of patients with preventable diseases that made one hope that anything we did or brought would make a small difference."
Impact at Amgen
She began working at Amgen in 2004 and quickly became a pioneer helping to establish the company's epidemiology and observational research capabilities, which became housed in the newly created Center for Observational Research in 2009.
Brian Bradbury, who joined the company at the same time as Critchlow, said she immediately brought a level of respect and an "aura of scientific exceptionalism" to the nascent group.
He said in 2005, the epidemiologists at Amgen encountered one of their first big challenges. Bradbury said there was some data suggesting some harm coming to patients on dialysis who were treated with the highest dosages of one of the company's flagship medicines aimed at treating anemia in patients with chronic kidney disease. He said the team was able to show that the risks were attributable to the patient's underlying prognosis rather than the effects of the company's medicine.
At the time, it was just about a half-dozen of them working on the problem.
"This was one of the hardest things that any of us had ever encountered," Bradbury said. "But it also set in motion our doing post-marketing drug safety studies using internal data, which was almost unheard of, and we successfully showed the safety of the medicine and brought more credibility to our organization. That was the beginning of an important journey that we have been on ever since."
Bradbury said Critchlow brought a quiet determination and methodical approach in search of scientific answers and was always a generous teammate who led by example and helped the group evolve into the organization it is now.
"Early in my career, I had just finished my doctoral work and she had been a professor for a decade and was much further along in her career than I was," Bradbury said. "I had so much to learn about being a professional scientist and she was there to talk through issues, edit papers and discuss strategic issues and I benefited so much from her guidance."
Critchlow, who was named the head of the Center for Observational Research in 2012, has spent the last two years leading the Human Data Initiative, which is aimed at figuring out how to use genetic and other molecular structure data to describe patients and their risk for diseases more completely.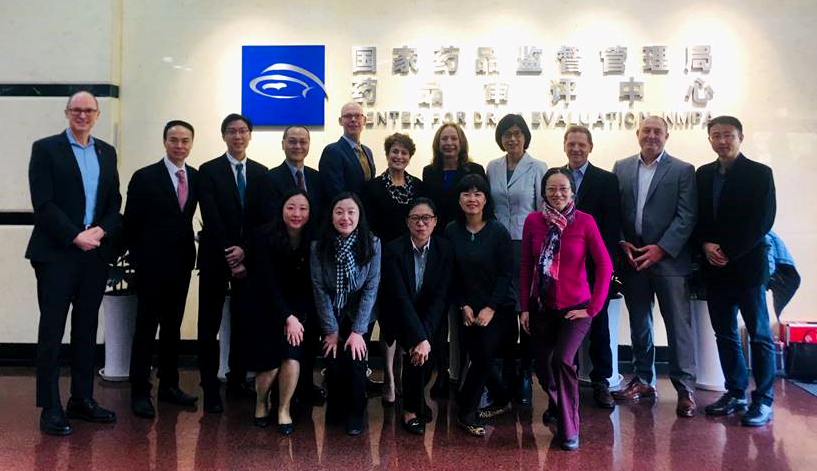 Enduring Legacy
Isma Benattia, vice president of Research and Development Strategy and Operations at Amgen, has worked closely with Crichlow for the past nine years. Even though Benattia is her supervisor, she has found Critchlow to be a complimentary and inspiring business partner.
"With Cathy, she manages a team with kindness and empathy and support," Benattia said. "She wants to do the right thing for the company and for the individual and is very supportive and positive, even in difficult situations. She can have the tough discussion but will also take the time to digest the information and explore new options with better clarity. It's a testament to her leadership."
Critchlow said she is proud of the work she's done at Amgen and hopes that the template left behind with the Center for Observational Research and the Human Data Initiative will continue to grow and improve the lives of people around the world through more data and analytics.
"I have loved what I was doing at Amgen," she said. "I hope I have been able to have enough of an impact on the people coming up behind me and that they'll continue to carry it forward."
Bradbury said she made such a strong mark on their department and the company. He believes her impact will be felt long after she has retired.
Because, he said, she cares about people and was always striving to bring the best out of everyone.
"Her generosity is something I try to live up to," he said. "I don't know that we can ever replace that, but we can sure try to emulate her and continually strive to be the best versions of ourselves."