Relationships keep us grounded, whether they're with friends, significant others or colleagues. For those with chronic conditions like asthma, these relationships also serve as an important support system. Having support is critical because asthma is unpredictable and can be difficult to manage. It's not always easy to navigate the intersection of these personal relationships and the effect a chronic disease may have on everyday life.
That's why Amgen created "The Air Between Us All," a multi-channel campaign, to illuminate the impact of asthma on relationships, both romantic and platonic, and communicate the importance of open and honest conversations in strengthening these connections. Therapist and New York Times bestselling author Lori Gottlieb joined part of this campaign to help people living with asthma navigate conversations about their individual health needs – and ultimately help them manage their condition.
The Realities of Living with Asthma – Personally and Professionally
In partnership with the Asthma and Allergy Foundation of America (AAFA), Amgen surveyed over 700 people living with asthma and caregivers to shed some light on the realities of this condition. Some insightful findings from the survey include:
56% of people with asthma said they do not share their asthma status if they don't have to.
4 out of 5 people with asthma say their family and friends are not very involved in their asthma management.
Nearly half (47%) of people with asthma feel that friends, family, and significant others don't consider their condition when planning social gatherings.
Nearly half (46%) of people with asthma agree that their condition can get in the way of important moments with a significant other.
51% of people with asthma feel their disease has a big impact on their overall well-being.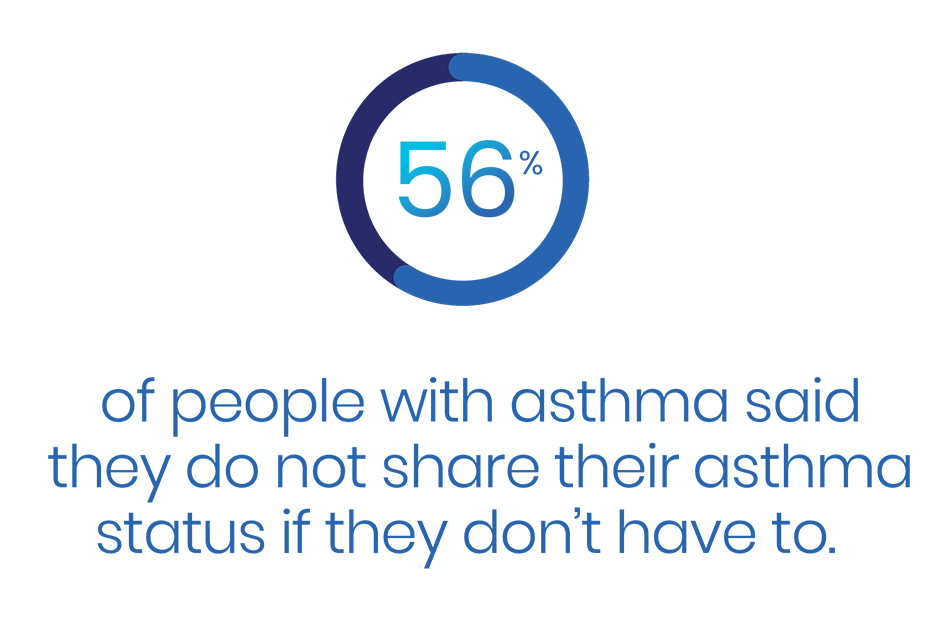 In addition to conducting a survey of people living with asthma and caregivers, Amgen also enlisted the help of Lorene Alba, certified asthma educator (AE-C) and chronic disease advocate, to give voice to the patient experience within the workplace. Lorene, who has severe asthma herself, penned a letter in The Washington Post, sponsored by Amgen, about the power of remote work for those living with chronic diseases as more companies reinstate mandates to return to the office. The article provides guidance on how to navigate the workplace while simultaneously navigating chronic conditions like asthma, including tips on how to ask for reasonable accommodations when being asked back into the office.
Talking About Asthma in Different Relationships
As a therapist, Lori Gottlieb sees clients with chronic conditions on a regular basis. Upon joining "The Air Between Us All," she sat down with different people living with asthma to create a series of educational and informative content on BuzzFeed and Huffington Post. In these materials, Lori shared tips for how those living with asthma can better communicate about their condition with different people in their lives, and reiterated the importance of being vulnerable and empathetic in conversations with friends, family and coworkers.
Choose three things you want others to know about your asthma and share them often. So often we try to hide things that make us feel different, but we're all going through something. I've found the more my clients talk openly about their chronic diseases, like asthma, the less alone they feel.
— Lori Gottlieb
Lori's main tips include:
If you live with asthma, having a broad support system with open communication is essential to help manage your disease. It comes from a place of strength to ask for what you need.
If you care for or know someone with a chronic condition like asthma, be compassionate and remain open to playing a supportive role. As someone who is connected to a person living with asthma, you play a critical role not just in their health but also their overall well-being.
When making plans with someone with asthma, take a moment to think about and put into action small behaviors like vacuuming your home or not wearing perfume or cologne to help them feel more comfortable. These small actions can have a big impact on not triggering a flare up.
For more updates on how Amgen is helping people with asthma build supportive and responsive networks in a new, meaningful way, make sure to follow along on LinkedIn, Twitter, Instagram and Facebook.
Lori on the importance of being open and honest
As someone who sees a lot of clients with chronic conditions like asthma, Lori has a unique perspective on the impact these diseases can have on relationships. And not just romantic ones, but friendships, work and family relationships – and even the relationship with one's doctor.
That's why Lori has decided to partner with Amgen on "The Air Between Us All." She knows just how difficult it may be to be open with others about health concerns and has seen firsthand how these conversations can help in the long run.
Join "The Air Between Us All" and follow along as Lori connects with people living with asthma and their loved ones on social media.