Anyone with lungs can get lung cancer. Worldwide, lung cancer is the second most diagnosed cancer, with more than two million people diagnosed globally each year.1
This Lung Cancer Awareness Month (LCAM), Amgen is working to share impactful stories from people who have lung cancer and to empower all patients to #KnowYourLungs. #KnowYourLungs could mean playing an active role in your care, or asking questions to learn more about your options and to get the treatment you deserve throughout your cancer journey.
Below, Lindy and Janine share their stories of perseverance through a lung cancer diagnosis and how understanding their treatment options and biomarker testing played a role in their care.
Knowledge is Power – Don't be Afraid to Speak Up
When Lindy was diagnosed with small cell lung cancer (SCLC), her world was turned upside down. Lindy's doctor told her that her prognosis was two to eight weeks without treatment.
"My first reaction was horror," said Lindy. "I thought, 'Okay, well, this is it, you're not going to live much longer.'"
SCLC, a particularly aggressive and difficult to treat cancer, accounts for 10-15% of lung cancer cases.2,3 The median survival following initial therapy is approximately 12 months and there is a 7% five-year relative survival rate across all stages combined.3,4 Treatment options have been limited in SCLC, with chemotherapy being the mainstay for decades.5 Amgen is committed to furthering research in SCLC to address this gap in care.
For patients living with SCLC, it's important to understand all of the treatment options available. Don't be afraid to talk to your doctors about your options and ask questions to ensure you're playing an active role in your treatment journey.
"My treatment has given me a sense of purpose and joy," said Lindy. "I just think it's so important for these researchers to continue trying to find something that would give us even more hope."
Knowing Your Biomarker Test Results can Help Inform Treatment Options
Janine's cancer journey began when she was diagnosed with ovarian cancer. After the surgery to remove her ovarian tumor, a scan revealed that she also had a mass in her upper left lung.
Janine's doctor diagnosed her with non-small cell lung cancer (NSCLC) and ordered biomarker testing, which can be done through a tissue biopsy or a blood test and is used to determine a patient's tumor molecular makeup to help doctors understand what is driving the growth of the cancer.6-8 Janine's biomarker test results confirmed that her cancer contained the KRAS G12C mutation, which is one of the most common mutations in NSCLC and occurs in ~13% of non-squamous NSCLC patients in western countries.9 These results helped inform a personalized treatment strategy to target Janine's specific cancer.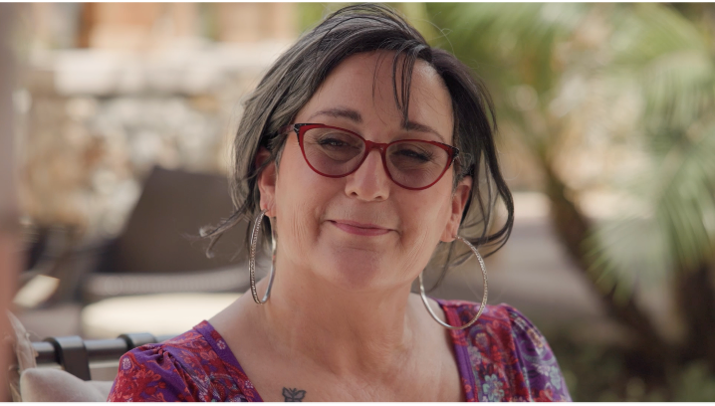 "My doctor never gave up on me and made sure to go back and look at my biomarker testing results," said Janine. "I feel blessed that I got such good care."
Approximately 45% of NSCLC patients who undergo biomarker testing have an actionable molecular biomarker that drives their cancer, but the only way to find these biomarker mutations is to test for them.9
It's important to talk to your doctor about biomarker testing regularly since the results can inform a personalized treatment plan at multiple points in the treatment journey, including if there is progression to later stages of cancer. The results may also provide information on emerging biomarkers that could be actionable in the future.6,10
You can find more information about NSCLC and SCLC from these advocacy resources: LUNGevity Foundation and GO2 For Lung Cancer.
---
References
World Health Organization. Estimated number of new cases in 2020, Word, both sexes, all ages. Available at: https://gco.iarc.fr/today/online-analysistable?v=2020&mode=cancer&mode_population=continents&population=900&populations=900&key=asr&sex=0&cancer=39&type=0&statistic=5&prevalence=0&population_group=0&ages_group%5B%5D=0&ages_group%5B%5D=17&group_cancer=1&i. Accessed on October 25, 2023.
American Cancer Society. What Is Lung Cancer? 2021. Available at: https://www.cancer.org/cancer/lung-cancer/about/what-is.html. Accessed on October 3, 2023.
American Cancer Society. Cancer Facts and Figures 2023. 2023. Available at: https://www.cancer.org/content/dam/cancer-org/research/cancer-facts-and-statistics/annual-cancer-facts-and-figures/2023/2023-cancer-facts-and-figures.pdf. Accessed on October 3, 2023.
American Cancer Society. Lung Cancer Survival Rates. Available at: https://www.cancer.org/cancer/types/lung-cancer/detection-diagnosis-staging/survival-rates.html. Accessed on October 3, 2023.
Qin A, et al. Journal of Clinical Oncology Practice. 2018; 14:369-370.
Pennell NA, et al. American Society of Clinical Oncology Educational Book. 2019;39:531-532.
Gregg JP, et al. Translational Lung Cancer Research. 2019;8:291.
Ahmadzada T, et al. Journal of Clinical Medicine. 2018;7(6):153.
Data on File, Amgen; 2022.
Rolfo C, et al. Journal of Thoracic Oncology. 2018;13(9):1250.