From a single building with about 30 people to more than 20 buildings and approximately 2,400 employees, Amgen's Puerto Rico site has been instrumental in the company's commitment to consistently and reliably deliver for patients.
In the early days, when there was just one building next to a cow farm, Maritza Mercado remembered just how small and startup-like the whole thing felt to her.
"My first day, I was greeted, and they pointed to a box and said, "OK, see that box – that's your assignment to implement," she said. "I was in the second-story area, and it was just a couple of tables and that's when I realized we were creating everything from scratch."
It was 1992 and Amgen had just announced plans to open a large manufacturing site in Juncos, Puerto Rico the following year, which came to be known as AML (Amgen Manufacturing Limited). It was a big step for the company that had been at the forefront of the cutting-edge biotech scene for 12 years running – originally under the name Applied Molecular Genetics and later shortened to Amgen.
A big reason for this expansion in Puerto Rico was because the company was making a splash in biotech. It was undergoing a major growth phase, transitioning from making medicines in a lab for patients in clinical trials to large-scale manufacturing.
Amgen had received Food and Drug Administration approval for a biologic therapy aimed at kidney disease. Then, two years later, came another biologic therapy for those undergoing cancer treatments. It was a heady time and demand was growing to the point where Amgen needed to scale up, expanding its production capacity to address these patient populations.
Mercado, who was one of the first hires at the Juncos site, had left her job at a large computer manufacturing firm's production site in Puerto Rico to begin developing structures and guidelines for new employees that would be brought on board with Amgen quickly. Mercado said she remembered her first all staff meeting with about 30 people and one of them said to her: "You left Intel for this?"
Thirty years later, she is still at the site in Puerto Rico and believes it was one of the best decisions she ever made and laughs about the question that was posed to her back then.
Now Amgen manufactures more than two dozen medicines spread across multiple therapeutic areas with a presence in approximately 100 countries. The site in Puerto Rico now has 23 buildings and 2,400 employees. It began by servicing just one piece of the manufacturing puzzle, called "formulation, fill and finish," and it now handles most every aspect of biologics manufacturing.
"I have felt very proud of working in HR and, as I look back, I can say one of the reasons I stayed so long is because it felt like a partnership," Mercado said. "Working here, knowing medicines have been made and distributed to patients all over the world to help them has been gratifying. But working at Amgen has also allowed me to pay off the home we built, care for my husband who had become disabled and it helped send my children to school."
Global Snapshot: 1992
The expansion of Amgen's production site in Puerto Rico came amid cultural shifts around the world, within the United States and throughout Puerto Rico.
1992 was the first time that compact discs outsold cassette tapes. Also, a text-based "browser" was first made available to the public – later to be known as the World Wide Web. In science, Edmond Fischer and Edwin Krebs won the Nobel Prize for their discoveries related to reversible protein phosphorylation as a biological regulatory mechanism. And two new nations were formed: the Czech Republic and Slovakia.
It was also a year that saw Toronto Blue Jays defeat the Atlanta Braves in the World Series, Pakistan beating England in the Cricket World Cup and Steffi Graf defeating Monica Seles in the Wimbledon Finals.
Popular movies that year included "The Silence of the Lambs" and "Aladdin" while the music charts were dominated by Whitney Houston, whose ballad "I Will Always Love You" topped the Billboard charts for 14 weeks.
Around this time, Puerto Rico was getting closer to moving from U.S. territory to statehood than it had ever had since the island's constitution being set in 1952. The island's electorate voted Dr. Pedro Rossello, a pediatrician, as governor and gave power to his pro-statehood New Progressive Party in November 1992.
U.S. President George H.W. Bush, as one of his final acts before leaving office, was to order all federal departments to treat Puerto Rico administratively as a state. It was largely ceremonial, however.
Puerto Rico was also making news internationally as a new, 1,000-foot-wide antenna dish at the Arecibo Observatory – about two hours west of Amgen's manufacturing site – coordinated with a giant dish in California to begin scanning outer space for radio signals that might transmit from any inhabited planets. The dish at Arecibo would eventually collapse in 2020.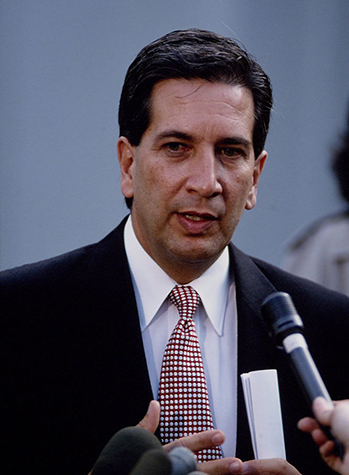 The world was also grappling with the HIV/AIDS crisis that had erupted about 10 years earlier, with annual deaths in the United States reaching their highest rate to date in 1992 with more than 194,000 deaths and in excess of 254,000 cases. The rates would continue to climb in both categories throughout the 1990s and into the mid-2000s.
In 1992, the first clinical trial of an antiretroviral began, the FDA issued new rules to fast-track new drugs based on surrogate markers of efficacy and President Bill Clinton established the White House Office of National AIDS Policy.
In the next three to five years, antiretroviral drug therapy would begin cutting the rate of deaths from the disease by 47%. And though there is no cure for HIV, death rates have decreased by 64% since its peak in 2004 as drug therapies have continued to be more effective in treating it.
AML-1 to 1.6 Million Square-Feet
Chris Hernández was one of Amgen's early hires after the company broke ground and opened its 330,000 square-foot plant with about 200 staff members producing the company's two breakthrough medicines.
"When I started, everybody knew everyone and we were just AML-1," she said. "We used to have car washes and basketball and baseball games. There was a little lake with fish and turtles nearby and we would do cookouts on grills just like you would with family and friends after work."
The Amgen senior executive assistant – who has worked hand-in-hand with all of AML's site heads – also remembered the technology in the 1990s at the Puerto Rico site: word processors, floppy disks, and pagers. There were receptionists who sent messages to managers through a big machine in the reception area. A fax machine could be found in almost every corner of the building.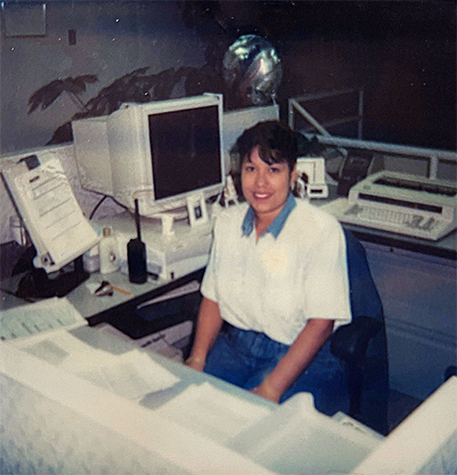 The AML-1 plant was an aseptic formulation, fill and finish plant, where the most complex part of the biologics manufacturing took place. The aseptic formulation, fill, and finish step is crucial to ensuring the sterility and integrity of biologics and requires close coordination between people working with the product, the formulation, fill and finish equipment, cleanroom facilities and sterilized components.
Ivelisse Castillo-López, who worked in quality assurance, remembered the complex and stringent safeguards required during that process, but also remembered the older technology that was pre-cell phones. She said they used walkie-talkies to communicate in the manufacturing area – easily done when it was just one building. It's a big difference as compared to today, where there are five manufacturing plants spread over 1.6 million square feet.
"Now we are like a city," she said.
But even up until the Opus project expansion in 2003 – which added three new buildings – there were still only 400 employees at the site. That would eventually quadruple over the decades. The Opus expansion included one of the three new buildings being used as a bulk drug substance manufacturing plant that made the active ingredient in the drugs and was the manufacturing step that occurs prior to formulation, fill and finish.
Since 1992, the Puerto Rico site has seen a $4 billion investment in expansion, making it a 24-hour-a-day, seven-days-a-week operation that accounts for the bulk of producing and distributing Amgen's products. The expansion of the Juncos site over the years has included process development laboratories, recombinant protein production and purification, water treatment and cogeneration plants and warehouse and shipping facilities that ship drugs to approximately 100 countries around the world.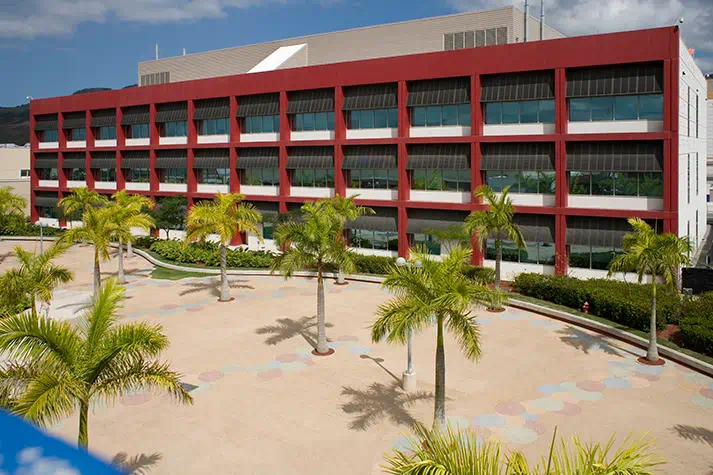 Omayra Báez, who began working in quality control sampling area in 1994 and when it was still known solely as a "Formulation, Fill and Finish Operation," said she remembered how when the site was just one building, a few hundred employees, and was surrounded by open land.
Driving her gray 1988 Toyota, she would begin work at 4 a.m. in her first year at Amgen and remembered driving along the dark road, sometimes catching Selena or Madonna on the car stereo. Her job was to support aseptic core filling rooms as well as environmental monitoring before and during the filling process.
For her, the journey from temporary worker to full-time staff and then getting promoted to a team leader felt like nothing she'd experienced before.
"I remembered my beginnings as a QC sampler and then just years later leading in a company like Amgen where my vision was reached – it felt like a dream," she said. "I studied microbiology science and in one moment I wanted to become an engineer, but with my degree in science, it allowed me to gain experience in different roles at Amgen – more than I expected. I have worked with many mentors and professionals at Amgen which have allowed me to expand my knowledge and career. As I said, it's like a dream come true."
Wanda Rivera, who started in the packaging area in 1997, said even a few years after opening in Puerto Rico, the shift from technology then until now has been dramatic.
"So different," she said. "So much more automated and updated now."
Amgen's growth on the island also involved working with the University of Puerto Rico by helping infuse the campus with a biotech program. That investment has included training programs, money and equipment for the Biotechnology Learning Center at the University of Puerto Rico at Mayagüez.
Bob Bradway, Amgen's chief executive officer, has visited the Juncos site multiple times in his tenure – praising it for resiliency amid Hurricane Maria and expressing appreciation for the operations teams working through the challenges of the global pandemic.
In 2020, he addressed the manufacturing site remotely and told them he was "proud of the success you're having at AML, in continuing to serve every patient every time and also in continuing to keep each other safe" during the COVID-19 pandemic.
"So far our industry has been holding up quite well against the strain of COVID-19," he said. "I think that reflects the extent to which companies in our industry have made the necessary investments in manufacturing."
Brenda Torres, vice president of Amgen site operations in Puerto Rico, said she was honored to lead the team "like those before me" when the company continued to grow.
"In 2022, we will celebrate three decades of excellence, three decades of continuous improvement, three decades of commitment dedicated to improving the lives of our patients, our community and our environment," Torres said.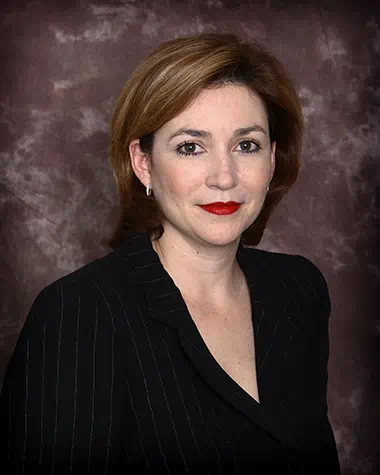 ---
Sources: The Associated Press, The New York Times, El Nuevo Día, The World Health Organization, The Foundation for AIDS Research, UNAIDS, The Nobel Prize