In recognition of Hispanic Heritage Month, Leslie Camacho, a senior manager, Information Systems, talks about the importance of instilling cultural roots at home with her children and breaking through barriers as a Hispanic woman in the field of IT.
Can you tell us more about your role and what makes you most excited to work at Amgen?
Amgen's mission is personal to me. As an asthma patient, niece and daughter of a cancer patient, it is more meaningful for me to work for an organization that produces medicines that have been valuable to my life and others in their battles with cancer and other diseases.
Currently, I serve as the senior manager in the Digital, Technology & Innovation function. Previously, I led the delivery of Enterprise Data & Analytics platform projects and executed on multiple strategic initiatives. I am also a passionate Employee Resource Group (ERG) leader for the Amgen Latino Employee Network (ALEN). I love the diversity of talent and culture everyone brings to work every day and believe representation matters. A diverse team inspires our staff to see themselves in a position and develop greater short and long-term goals with the motivation to achieve greater things.
You were instrumental in starting the ALEN Chapter in Tampa. What inspired you to start ALEN Tampa, and how would you describe the growth today?
When I joined Amgen in 2017, I reached out to the ALEN Global team in search of Latinos in the workplace to feel a little piece of home. Six months later, I started the ALEN Tampa Chapter – the first ALEN approved chapter outside of our headquarters in Thousand Oaks. Throughout my three years serving as the Chairwoman, I helped increase the ALEN network, led Hispanic Heritage events showcasing our successful Latin employees as well as career and community events. The process was possible with the support of an awesome Chapter Leadership Team and Sponsor that helped me achieve all our goals. I remember when we started, our first meeting had about 10 people. Today, we have 99 registered members at our Tampa site and 521 members globally.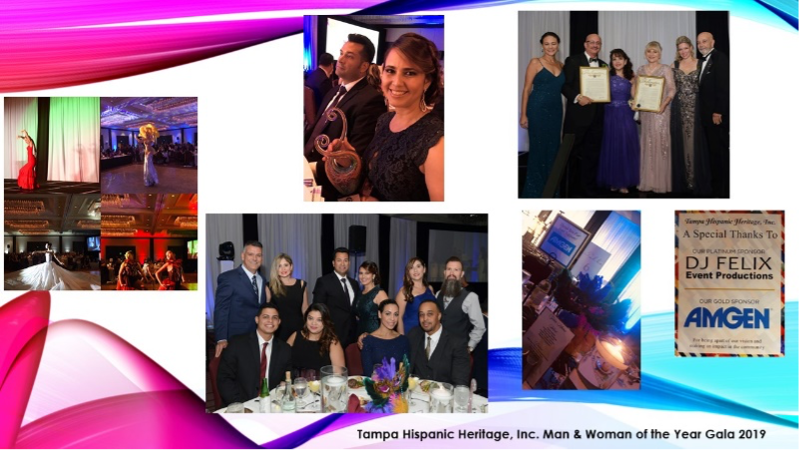 As a native of Puerto Rico, why was it important to instill your cultural roots in your children?
Every day, I am inspired to represent my heritage and aspire to be a role model for my kids. As a Puerto Rican born and raised on the island, I have the passion and pride to share my heritage and cultural background with others. It is important for me to maintain the integrity and pride of where we came from while embracing, respecting and learning from other cultures.
In a more personal matter, we speak Spanish at home. I also share my love for my country through cooking traditional meals, so my children can continue to keep our heritage and traditions alive with our family's future generations. This is super important to me as this is what I am proud of – my heart and my love for where I come from. For all of us that leave our "homes", it is that connection with traditions that takes us back to those beautiful experiences we pass on to our kids to appreciate.
In Tampa, we know the ERG community is very family oriented. Have you ever shared your heritage or cooking traditions with your colleagues?
Yes! And I love it! As a foodie, I love sharing the sabor latino in our food. During a staff potluck, I took the opportunity to cook and showcase a Puerto Rican dish – a savory chicken stew and green pigeon peas yellow rice. I can say that there were no leftovers! And I have shared my Sofrito recipe, this is the base of our Puerto Rican cooking besides cooking with love.
During Hispanic Heritage Month, we would coordinate with the cafeteria to highlight Latino foods, so we can share with others the diverse influences of our food. Do you know about mofongo? It is delicious!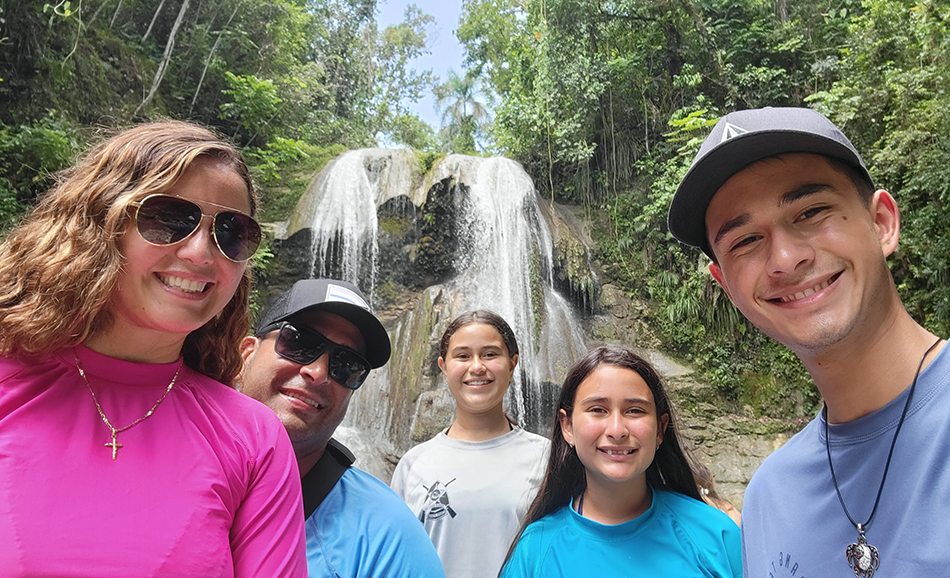 What was your experience like moving from Puerto Rico to Tampa and the U.S.?
It was very difficult at the beginning. I was a first-time mom, missing my family, relatives and friends. I love the beach, the mountains, the festivities during the holidays and, well, the food and the beautiful coqui sound.
Having my first baby, it was super difficult for me to find daycare for a six week-old in a country and state I had never lived in. At work having to translate in your head every word from Spanish to English in every interaction was not easy to do when your natural reaction is to respond in Spanish.
The weather – I know, Tampa is hot and humid, but it has cold days believe it or not. Those lower than 50-degree days we sometimes get here, do not happen in Puerto Rico at all. The beautiful "Isla del Encanto" has beach weather all year long where you can enjoy being outside at any time. But to make my transition easier, I searched for places similar to home where I could enjoy bringing those great memories back. It was also fun to explore and learn new things.
Information Systems/Technology has traditionally been viewed as a male-dominated industry. What spurred your interest?
In high school, I had a Visual Basic class, and I was good at solving the problems by creating solutions with that programming language. Therefore, I decided to pursue my bachelor's in information systems – I loved the systems analysis and design. That is why I decided focus most of my career on enhancing user experience.
Have you faced any related obstacles as a Latina woman working in the IS field?
Yes, trying to be successful in a male-dominated industry has not always been easy. I once had a manager that suggested I hire an at home nanny to take care of my kids so I could stay over my 8 hours at work. Working 10-12 hours a day was the norm, and his belief was that I needed to work extra hours to grow in my career at that organization. He would compare me to the other men that stayed longer hours in which the majority had a stay-at-home wife and no need to run out the door to get their children.
In another experience, a manager said my other Latina colleagues and I are too passionate, too emotional and we needed to "chill out" as that is "not the way they worked" at that company. If being enthusiastic, defending what you believe in, putting dedication to achieve goals, providing your honest and professional feedback in an open forum where you can be your authentic self is called too passionate and emotional…then I am all that and proud.
Through my career journey, I struggled multiple times with wanting to give up on the IT world. As a very independent woman who is ambitious with my career aspirations, I wanted to grow and achieve, but I also wanted to be the best mom I could be for my kids. On many occasions, I felt I could not be a successful professional and a great mom. For me to navigate that, I reached out to my pillar, my mom, and my mentors that could provide advice and guide me through my situation to achieve both. I can tell you that all my career decisions have been made based on putting my kids first and then my career so I could be present and not miss any school or extracurricular events in their lives.
Can you share a role model that gave you the motivation to continue striving in your career?
My mom is the best role model. She is a strong, dedicated and hardworking woman, and her professional ethics are extraordinary. My mom, without a college degree, always made sure to learn everything she could to become the best at her job. She pushed herself every single time. Her perseverance, tenacity and resilience are admirable. By herself, she was able to raise and provide the best education and opportunities for me and my sister. I am very thankful for her and for passing along my tenacity.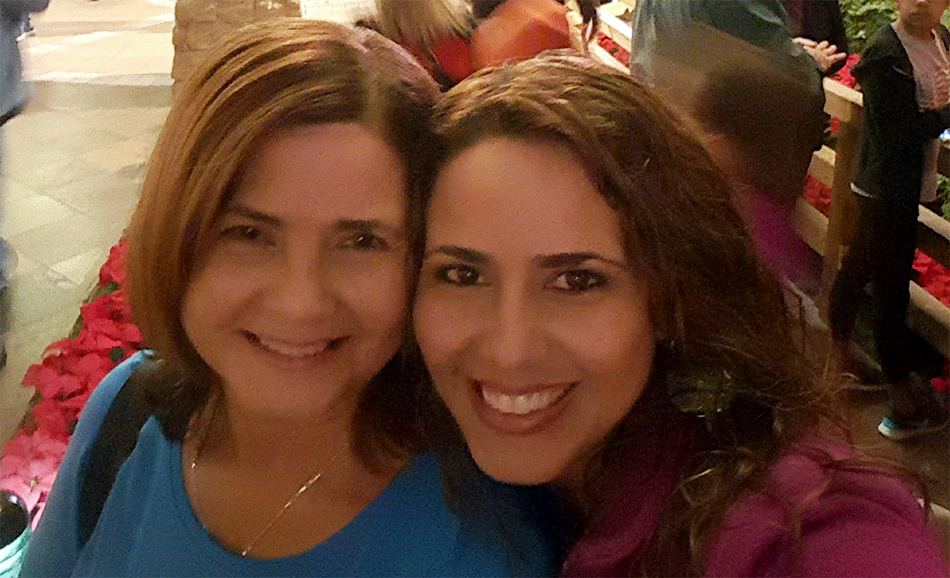 Why do you think it's important for all career levels to act as mentors?
As a people leader, I like to pay it forward. Part of my responsibility is to support my staff in their career path, and I am truly invested in their development. Intentionally dedicating time and genuinely caring about staff career aspirations increases morale and engagement. In doing so, they will feel heard and supported to define a clear path of continuous improvement. There is no better moment than seeing your team grow and succeed, and it will encourage them to pass it on to the next generation as well.