Darylyn Long bent down and pulled out the cuff to take Jack Curtis' blood pressure.
"How have you been feeling?" she asked, strapping it around his arm.
Curtis told her his blood pressure had dropped the previous night but he was mostly feeling OK. Curtis, laying in the bed next to a large window in his home, turned off the stereo playing a Miles Davis song. He gazed at the hummingbird flitting by a feeder, dipping its beak into sugar water he had made for it.
"Are you breathing OK?" Long asked.
"Well, I'm still breathing," Curtis said.
Long laughed. Curtis smiled. She told him his oxygen was 94%. The blood pressure reading came back a little higher than normal. She noted it on her tablet. She took his temperature. Normal.
She helped him sit up so she could place the stethoscope on his back. She listened.
"Deep breath," she said.
Inhale. Exhale. Inhale. Exhale.
"It's OK," she said. "If you pass out, at least you're already in bed."
Now it was his turn to laugh.
She examined his catheter. It wasn't due to be changed on this visit, but she checked it anyway. Curtis laid still in the bed. It was fine.
"Did I forget anything?" Long asked. "Do you need a haircut?"
Both laughed. Long walked over to a kitchen table and went over medications with the other in-home care provider that came by regularly to help the 90-year-old with daily routines. Curtis had just been released from the hospital for an infection a few days before and she wanted to make sure nothing was missed. Long instructed the caregiver on catheter care and wound care around it as well.
She asked a few more questions about how he was feeling. She told him to use his oxygen at all times and did a review of oxygen safety with the patient and the caregiver.
Long packed up her small roll-away carrier filled with supplies. The visit took about 40 minutes.
Outside the house, Long packed up her SUV. Curtis was her second in-home patient she'd seen that morning. Some days, she could see as many as six patients. Some days, it was fewer.
Each visit, however, confirmed she made the right decision to work for Livingston Memorial Visiting Nurse Association & Hospice, a nonprofit in Ventura County, California that works with sick patients who are homebound and has been a regular recipient of grant money from the Amgen Foundation since its inception three decades ago.
"It's not who I was that made me a nurse, it's being a nurse that made who I am," she said. "Going into someone's home who is sick and they're so glad to see you – that shapes who you are. You want to treat people like they deserve to be treated and not just as a sick person. It's about the dignity that comes with being a human being."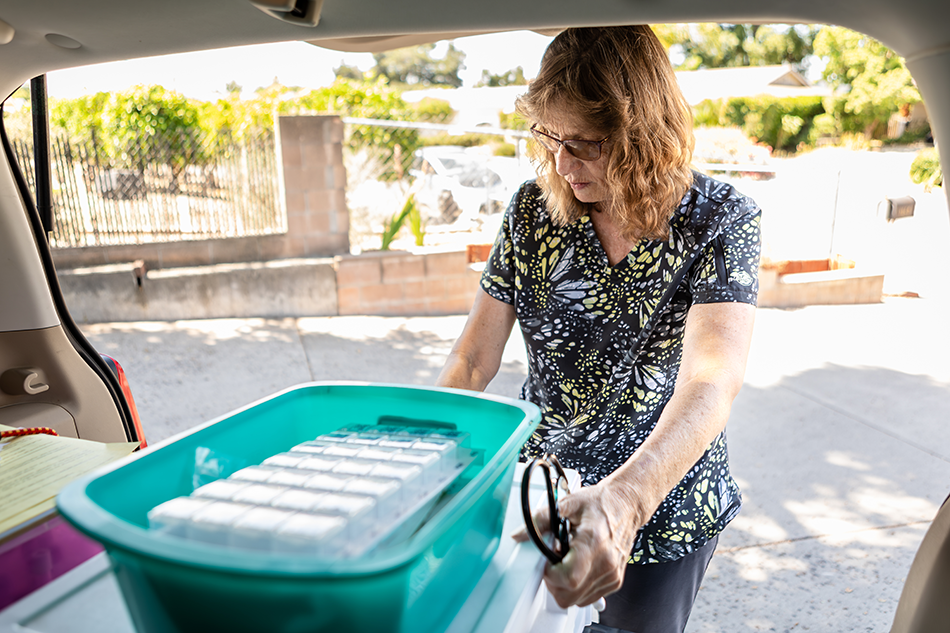 Laying a Foundation
The Amgen Foundation started operating in 1991, just a little over a decade after Amgen landed on the biotech scene and just one year after its first medicine came on the market.
Joe Staines, Amgen's former tax director, said prior to 1991, the company didn't have a formal and consolidated way to handle donations and, with the company experiencing large growth, felt it was important to house corporate giving in one place.
It was a modest start, with small grants mostly being issued locally. By 1993, the Amgen Foundation established the Employee Matching Gifts program as the company's workforce continued to grow. In the first year, Staines said the first matching gifts were capped at $500 due to the nascent pool of money the foundation had available.
"No one knew how big it was going to be," Staines said. "I certainly didn't."
The early recipients of grant money and charitable contributions from employees were mostly local, Staines said. He recalled in the early years, they would meet in Building 10 at Amgen's headquarters in Thousand Oaks, California and try to determine where they could make the biggest impact through charitable giving.
He said one of the early recipients of Amgen Foundation money was the National Merit Scholarship Program. With just $100,000 budget to begin with, giving large chunks to a broad swath of causes wasn't feasible. He remembered in that first year, someone suggested a $10,000 to the National Merit Scholarship Program would be great. Stains said it was hard to draw hard lines in the face of need.
"I'd have loved to do that, but that would have eaten up our entire budget," Staines said. "We ran numbers and determined we could only give $3,000."
Staines said other early recipients of grant and charitable donations in Southern California included Many Mansions, a nonprofit that provides affordable housing to low-income families and Community Conscience, a nonprofit that provided rent-free space to social service organizations.
And then there was the Livingston Memorial Visiting Nurse Association & Hospice.
Staines said they were among the first recipients of grant money because they had a good reputation locally and provided important work within the community that the foundation was proud to back. It was a small grant, but it was the start of a longer-term association with the nonprofit.
"We developed a good relationship with them," Staines said. "And they really have grown over the years."
Scott Heimlich, president of the Amgen Foundation, said Livingston Memorial received $15,000 this year. Over the past five years alone, the foundation has given $110,000 to the Ventura County-based nonprofit.
"Being in a position to help nonprofits like Livingston Memorial is what the Amgen Foundation is all about," Heimlich said. "The service they provide to the community is invaluable and is evidenced by their longevity and impeccable reputation."
Since 1991, the Amgen Foundation has given more than $425 million to a wide array of nonprofits, providing money toward disaster relief and also advancing science education around the world. In the last two decades, staff giving plus the Foundation match have totaled $135 million as well.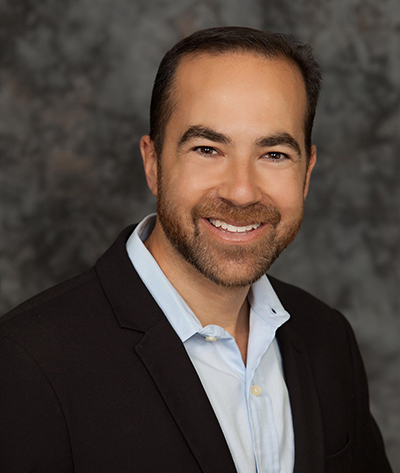 Long Road
Livingston Memorial was founded in 1947 when Oliva Hathaway, a nurse, made a house call to a patient in Ventura County. By 1955, there were three nurses visiting close to 300 patients – a third of which were low-income residents who couldn't afford to pay for health care.
Last year, Livingston served 3,090 patients in their homes and employs 230 staff along with 93 volunteers.
Molly Corbett, interim president and chief executive officer of Livingston Memorial Visiting Nurse Association and Hospice, said the nonprofit continues to serve a growing population that continues to both age and live longer. According to the U.S. Census, older Americans will make up 21% of the population in 2030. That is up from 17% in 2020.
She said grants and donations help subsidized home health and hospice care to people who are underinsured or don't have insurance and are financially qualified while also offering a support for those with end-of-life issues along with free grief and bereavement counseling to hundreds of children and adults throughout Ventura County.
About 70% of Livingston's clients are served by the home health division – people like Jack Curtis, who need longer-term medical assistance but don't require hospitalization. Hospice accounts for about 25% of those served by Livingston.
Corbett said the nurses – like Long – that do the work inside people's homes have to bring a strong set of practical skills to the job as well as a healthy dose of empathy and compassion. She also said they may have to enter homes where there may be dysfunction and know how to be helpful and handle the situation, which may include connecting them to social workers.
"When they are in someone's home, it's not like being in the hospital or a doctor's office with a full support team. It's just them," Corbett said. "They can call the office, but they really need to have a wealth of experience to draw from. It takes a special kind of person who can do all the things needed during a home visit."
She said some of the patients that are served may be dealing with loneliness as well. A nurse needs to know how to engage with that person – to treat them with, as Long said, dignity and care.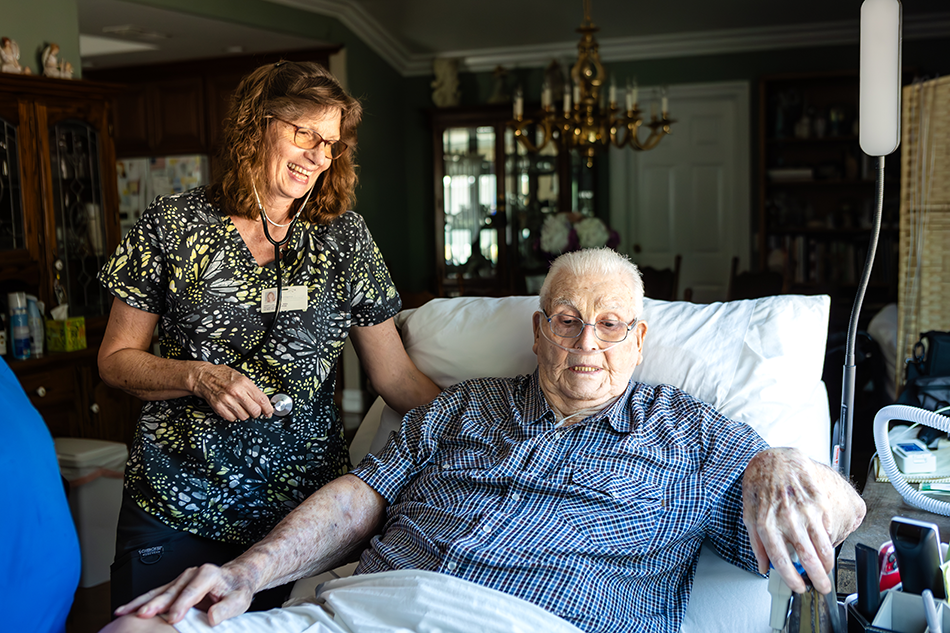 Feeling at Home
Curtis has been a patient with Livingston for about two years. He said there are days where he still can't believe how he ended up laying in a bed watching the hummingbirds outside his window and occasionally being lifted into a wheelchair to go outside and look at his fruit trees in the backyard.
"It was a fluke. I fell in my garage and broke my back and crushed my shoulder," he said. "I was mostly immobile for the first year."
Being immobile was not the Curtis way for most of his life.
For decades, Curtis operated some of the largest backhoes in the world, scooping long, deep trenches into the earth. Sometimes, he'd also fire up a giant crane that hoisted and placed massive pieces of pipe into those troughs. Eventually, they formed arteries that carried water to millions throughout California.
Water had always been a big part of his life. It was hard to think of a time where he wasn't involved with it. In the early days – as a young man – the machinery was simply an extension of muscle and an exercise in progress. As he got older, he replaced backhoes for board meetings. Retirement followed, though he remains an elected official on the local water board.
Along with his wife, he'd visit his daughter in Montana, taking in the state's wild rivers. On a trip in 2021, it was the cruel twist of fate that sent him sprawling onto the concrete in his garage that led to his broken back. The culprit? A garden hose.
"We just got back from Montana. It was very hot and the luggage was still in the back of the car," Curtis said. "I thought I'd wait until night and get it out when it was cooler. I had the garage door open and thought it was dark and that I'd better turn on the light."
He never saw the hose. He tripped on it.
His iPad went flying. He laid there, unable to move. His wife was already in bed and couldn't hear his cries for help through the double-paned windows. His only hope was a late-night stroller would walk by and hear him and get help.
"I thought: 'This was a hell of a way to die,'" he said.
But a neighbor did happen by and help arrived after about an hour. There was the trip to the hospital and eventual surgeries on his back. There was rehab on his shoulder. In the last two years, he also got Covid and battled a variety of infections.
But he said Long's presence has been a constant that has helped him through it. He said she not only has a lot of skill with providing the medical care he needs, but she also has a bedside manner that provides a lift beyond just the physical. It's the smile, the laughs and the casual conversation that makes a day just a little more tolerable.
"She's the best," he said after she left.
His gazed back out the window a few minutes, watching the hummingbird dart about outside the window. Curtis reached for a remote control, clicked the button and the room filled with jazz again. He breathed evenly and relaxed.
Inhale. Exhale.
"Amgen Origins" is a series focused on highlighting the origin stories behind innovations large and small across Amgen.