This article was originally published on September 11, 2022.
The halls are mostly quiet, save for the occasional soft knock on a door before a doctor or nurse enters the room to check on a patient. In a few recessed pockets along the hallways, computers monitor the vitals of each private battle being waged against cancer.
Some doors are adorned with colorful signs; a green apple means a patient with low blood sugar while a yellow and black placard featuring a shooting star signifies the person is at risk for falling down. On the counter of the reception area is a small white swan fashioned out of paper. It was made by a patient.
Dr. John Glaspy has walked these hallways many times over the course of many years. The medical oncologist saw patients, met the families and friends providing support to the patients – mostly with leukemia – and he's incredibly proud of the doctors and nurses who are bringing the fight to cancer with everything they've got every single day.
But when he would enter this particular quadrant of the Ronald Reagan UCLA Regional Medical Center, Glaspy always noticed the plaque on the side wall next to the reception window: In Memory of Ms. Dora Menchaca.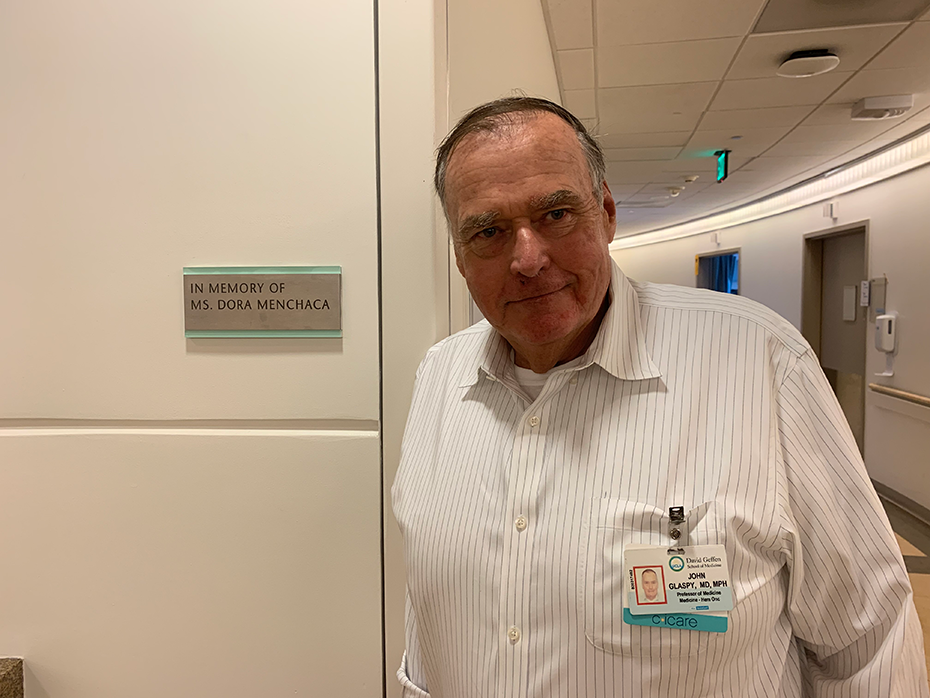 She had been a good friend and scientific collaborator of his for several years.
His mind would then go back to Sept. 11, 2001 – the day the United States was attacked by terrorists. The day the World Trade Center came down before his disbelieving eyes. The day dark smoke billowed above the Pentagon like from some surreal movie. Before the day was done, four passenger planes had all been felled and left thousands dead in New York, Washington DC and Shanksville, Pennsylvania and left a nation numb.
Glaspy knew Menchaca was in the nation's capital briefing the U.S. Food and Drug Administration on some cancer research the day before the attacks. But didn't know a fateful decision she had made to take an earlier flight on the morning of Sept. 11 would mean neither he nor her family would ever see her again.
Menchaca boarded on American Airlines Flight 77 – one of the four planes that was hijacked on 9/11 – because she wanted to get home sooner to be with her husband and two children in California.
Glaspy couldn't reach her on his phone all morning as he watched the shocking images on television. He spoke with mutual friends, who didn't know her fate either. Eventually, however, the call came. The news he didn't want to hear was heard. Menchaca was gone.
"I cried," he said.
Keeping Her Memory Alive
The details are fuzzy to Glaspy, but the memories of how he felt after she died remain crystal clear.
He wanted to be involved in keeping Menchaca's memory alive after 9/11. Coincidently, he had been meeting with top leaders at Amgen before the attacks. He said the company had expressed interest to him about making donations that would have a real impact on the world.
Glaspy mentioned the Ronald Reagan UCLA Regional Medical Center was being built because the old hospital had some damage due to the 1994 Nothridge earthquake. Money was, he said, still in the process of being raised to construct the new facility in Westwood.
After 9/11, Glaspy met with executives at Amgen and the idea took hold immediately – donate some money toward construction of the new hospital.
"The whole country was smarting from Sept. 11 and having a chance to do something positive in conjunction with this tragedy was a way to defiantly refuse to let your knees bend and to force evil to give way to something good," Glaspy said.
Amgen donated $3 million toward the construction of the Ronald Reagan UCLA Medical Center, which was dedicated in 2007 as a state-of-the-art facility with 520 large private rooms for patients. As a part of that construction, an area of 26 private rooms for cancer patients – mostly with leukemia – was named in memory of Menchaca.
"Dora was a respected and beloved member of the Amgen family," Amgen CEO Bob Bradway said. "We remember and miss her, but also take some comfort in knowing patients are being well cared for in a place that bears her name."
Glaspy said thousands of patients have come through the quadrant of the hospital, receiving a variety of cancer treatments, including bone marrow transplants. He said there is a strong family dynamic in the ward, too, as many of the patients can be there long-term as they receive treatment.
He said there is also a sense of "esprit de corps" in the unit as people with cancer rally around each other and pull for each other. He said Menchaca, who always understood the importance of family, would appreciate the daily work that goes on there.
"She was a young mother and she was also an incredible, scientifically-gifted professional whose number one priority was her family," Glaspy said. "But she also worked so hard. I remember talking to her at midnight, after her kid was in bed, and she could finish her 14 hours of work. She was dedicated to that level of scientific excellence."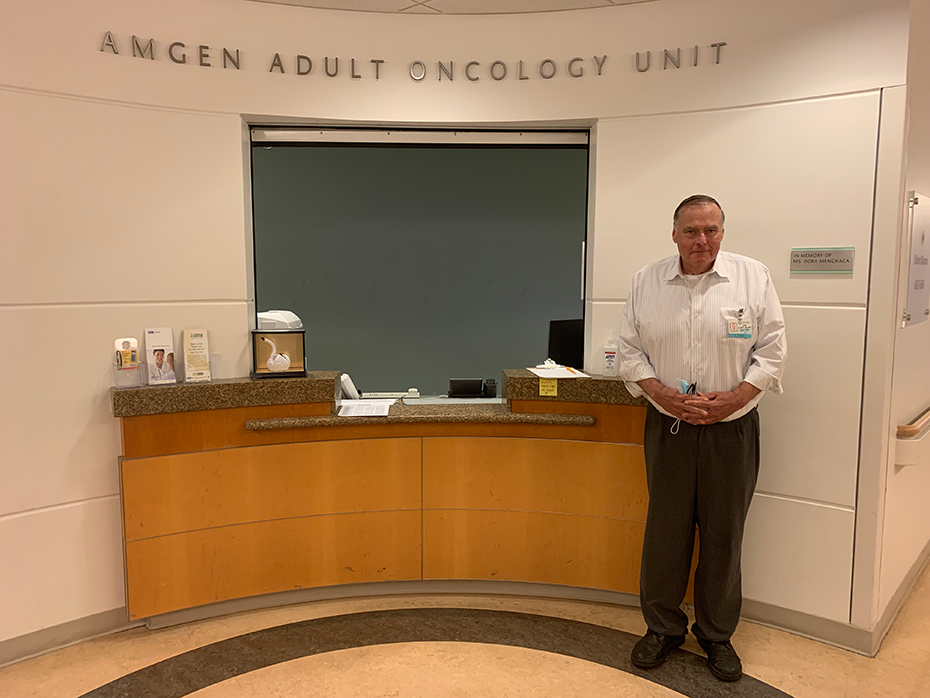 On Her Shoulders
Menchaca was a director of clinical research with a focus on cancer – a drive that sprung from her own father's diagnosis with prostate cancer.
She had multiple degrees, including a master's degree in public health from the University of North Carolina and a doctorate in epidemiology from UCLA, which she completed in 1986. As the first member of her Mexican-American family to attend college, she sought to help others by volunteering at schools to encourage students of color to pursue STEM studies.
Her death on 9/11 shook everyone who knew her. When there was a tribute memorial for her at Amgen's Thousand Oaks site, about 5,000 people showed up to honor her, according to a Los Angeles Daily News account.
"I felt like I've been run over by a Mack truck and haven't gotten up yet," Amgen employee Bill Sheridan said at the service.
And Kevin Sharer, Amgen's chief executive officer at the time the donation was made, said at the memorial that Menchaca's "passion and belief in doing whatever it takes to help patients and advance science will have a lasting impact."
Glaspy went to the memorial and spoke as well. He told the crowd about how she was a professional woman who valued her family. But he also began to see how her scientific legacy was helping others to be with their families longer, too.
He said he remembered how the two of them worked on a clinical trial for a cancer drug that involved stem cell factor, a process that causes blood stem cells to change into different types of blood cells and increases the number and actions of these cells in the blood rather than harvesting it from bone marrow.
Glaspy said that while the drug didn't make it to market in the United States, it produced information that they still use today in the ward for cancer patients.
"It's not just her memory that lingers," Glaspy said. "It's also her contributions. I stop to think about it, whose shoulders we are standing on, when I see her name and the unit is full. It continues to serve patients and will be there much longer than I'm on earth and that is a powerful legacy."
"Amgen Origins" is a series focused on highlighting the origin stories behind innovations large and small across Amgen.