There was Chris, the dedicated husband. There was Chris, the loving father of three children. There was Chris, a renowned leader at Amgen who earned respect through his ability to listen, decipher and solve complicated questions and mentor fellow colleagues. And then there was Chris Van Den Broucke, the storyteller.
Some were short. Some were more intricate. Most were hilarious. Many had heard the story about the rabbit -- with a twist ending or two. Or three. He would tell these stories with earnestness and in specific detail. Those listening would hang on the words as he commanded cadence and delivery for maximum effect.
The punchlines were dry and deadpan. His timing was impeccable. And even if he wasn't telling a story, he could make a wry observation that simply landed perfectly.
"I was on a trip with him to Luxembourg and he had told me he was going to introduce me to many important people over lunches and dinners," Gilles Marrache said. "But on the last day, he was driving and we had a very old-fashioned GPS that wasn't all that great. It was taking us all over the place – except for the place we were supposed to meet people for dinner. We were talking and, before we knew it, the GPS announced; 'You have arrived.' We stopped the car and looked around. Then we looked at each other. We were literally in the middle of a cornfield.'"
Marrache said Chris' face didn't betray anything. Instead, he just delivered the line as flat as possible.
"I don't think the restaurant is here."
It was vintage Van Den Broucke. Marrache, Amgen's senior vice president regional general manager at ELMAC, laughed at the time. He laughed as he retold it, too. "When he made the joke, you never expected it or saw it coming. You'd always be surprised."
But for all of his jokes and humorous stories, it was one of the final stories Van Den Broucke told that didn't have a punchline. Instead, it was a sobering, open and direct story about what happened to him in 2017. He hoped it would resonate with Amgen employees when he recorded it.
"I was healthy, at least I thought. Children, grandchildren, sporty so certainly no black hole in my life," he said. "After I have been working at Amgen, it was fantastic – until a certain moment in mid-2017. Even after I had many medical checkups, something apparently escaped. Long story short, I got diagnosed with cancer."
The video was shot in 2021. Two years later, Van Den Broucke died. He was 70.
Football Dreams
Van Den Broucke was born in Antwerp, the second child in a family of five. His brother, Luc Van Den Broucke, remembered a sibling in elementary school with many friends and a passion for playing football.
At Chris' funeral, Luc recalled a fierce determination that would carry on in his brother's life through military service, pharmacy school and his career at Amgen.
Luc said Chris' original plan was to be the best goalkeeper in Belgium. So, a goal was built in the yard for just that purpose.
"Often, we, his brothers, had to reluctantly kick balls around for hours on end to train with him," Luc said. "Regular football matches took place in the garden with the boys from the village – 11 against 11, complete with a referee."
But along with his footballer dreams, he said his brother also showed a strong sense of business acumen at an early age, writing up invoices for his father, a veterinarian, who did work for regional farmers. He was organized and paid close attention to details. He was reliable and dependable.
It wasn't until later in his late teens that Van Den Broucke turned his attention to pharmacy studies at the University of Leuven in Belgium. There, he joined the student council and took on a leadership role organizing events and gatherings among the students. He had many friends and seemed to relish the challenges of school, where he was studying to be a pharmacist.
It was also the place where his life changed forever. It was where he met his wife, Annie Lecoutere. They would end up spending the next 50 years together.
'Work Was His Hobby'
Annie Lecoutere said she could tell Van Den Broucke was ambitious early on when they met, but she also quickly noticed his great sense of humor coupled with a sense of kindness and friendliness that seemed to draw people to him.
"He was also loyal," she said. "Once he got to know people, he wouldn't let them go. They stayed friends."
The two dated and were married in 1976. After finishing pharmacy school at Leuven, he served as a reserve captain in the Army for 15 months. She said the military suited him, but it was never going to be a career for him either. Eventually, he would go on to obtain a PhD and after that his MBA at the Vlerick School in Ghent, Belgium.
She said they both went to work as pharmacists in Belgium. Soon, came their three children: Steven, Katleen and Vincent.
"He was quite proud of them," Lecoutere said. "He loved them and always did what was best by encouraging them to follow their own paths. He knew how to do that without a lot of words because they saw him as an example in action."
She said he always showed the ability to balance work with his favorite hobbies – skiing, tennis, playing cards and, later in life, golf. Both of them were well-trained long-distance runners as well. She said those passions and skills helped him live a full life while learning patience and discipline that translated to his career.
"He used to say work was his hobby," Lecoutere said. "He really loved it when he had a team around him. He never stressed and was very proud of the work he had done and that he could get along with people above him and, also especially, the people who worked with him to accomplish something. He just loved people." After working as a manager of regulatory affairs for a year in 1984 with Schering-Plough, he moved on to Cyanamid Benelux and then to Lederle before joining Amgen in 1992 as general manager Benelux.
He would stay with Amgen until he retired in 2015.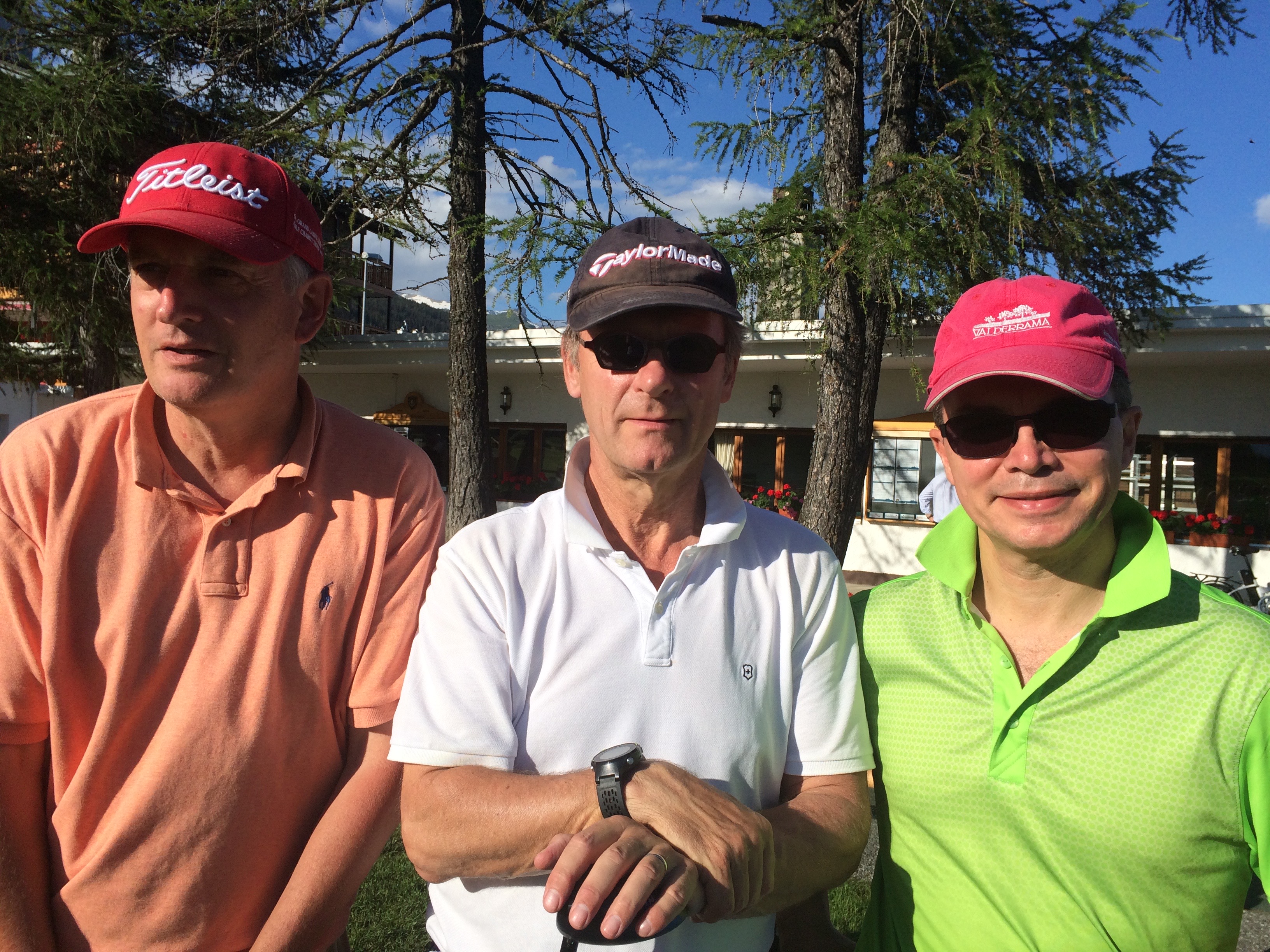 The Amgen Years (And The Rabbit Story)
Van Den Broucke was promoted from the general manager position to managing director Amgen Benelux and Scandinavia in 1996, where he stayed for five years with responsibilities over Belgium, Luxembourg, Netherlands, Sweden, Finland and Denmark.
From there, he moved into the role of regional director and vice president for several areas within Europe in 2002 before becoming Amgen's vice president France and mid-size countries, including the United Kingdom, Ireland, Netherlands, Austria and Greece in 2012.
Roman Stampfli, Amgen vice president regional general manager ELMAC, said Van Den Broucke was his mentor around 2007 – and later was his supervisor – when he was working with Switzerland affiliate on the medical and then the commercial side. It wasn't long, Stampfli said, before Van Den Broucke helped him to learn how to manage people: Don't be a micromanager, lift people up, pay close attention to cross-functionality to see where impacts might be noticed.
But more than that, they became friends. And that's when Stampfli heard the rabbit story for the first time.
In the retelling, Stampfli said Van Den Broucke had a straight face the entire time. In the story, Van Den Broucke told him that they were living in a house with a big garden and they had a neighbor and the neighbors went on a vacation.
"They had a rabbit in their cage in the garden. But one day we saw the rabbit in our dog's mouth. We were totally shocked. This can't be – our dog killed their rabbit. What should we do? So, we washed and cleaned the rabbit and went to the neighbor's and put the rabbit in the cage. When the neighbors came back, they were completely surprised and came to Chris and asked if he saw or heard anything. No, I'm sorry we didn't see anything."
Stampfli said then Van Den Broucke delivered the punchline: "The neighbors said, 'That's really strange because before we left, the rabbit died and we had buried it in the garden and now the rabbit is back in the cage."
"As if the story wasn't funny and extreme per se, the real surprising part actually came at Chris' funeral ceremony when Anne, Chris wife, mentioned that she heard the story about 20 times, each time with a different twist on the ending and letting people in the unknown if it was true or not. And you know I believed all of it for years, repeated it to friends, while it was a joke," Stampfli said. "Beside so many other great aspects, this was one of Chris's side that people appreciated so much – great storyteller with huge portion of humor."
Both Stampfli and Gabor Sztaniszlav, Amgen's general manager in Belgium, said the storytelling and the humor helped him build relationships throughout his time in leadership at Amgen. And when he retired in 2015, he said it was a big loss for the company.
After he left, Sztaniszlav said Amgen was looking to commemorate the 30th anniversary of an affiliate and Van Den Broucke had been a key part in establishing it and so he thought it might be a good idea to have him speak at the event in 2021.
Van Den Broucke told him he'd be happy to – with one caveat.
"He said he would if we also allowed him to talk about his disease and his personal story and journey," Sztaniszlav said. "It was a big surprise for us. People don't usually speak so openly on such sensitive topics. And so, when he arrived in the office and it was the first recording of the video speaking about his cancer, he was fully prepared and said what needed to be said. It was difficult, but he did it with such a human touch."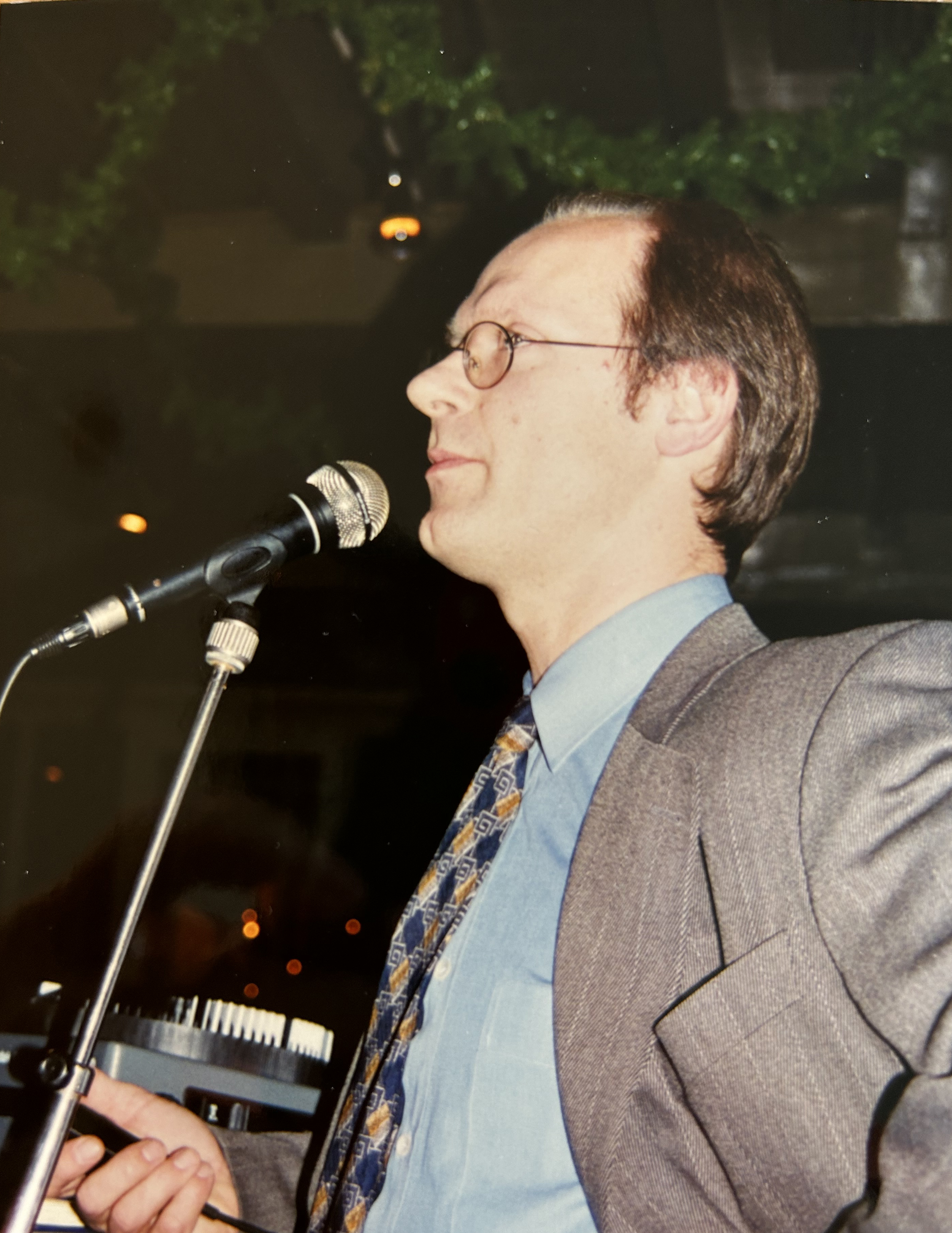 Words of Guidance
Van Den Broucke appears relaxed in the video, but the words he speaks belie comfort. He speaks of needing help to go up the stairs. He recounts how fragile his vertebrae is and how he broke one of them. He recounts his initial diagnosis of cancer, painting the picture of him sitting in the office with his wife.
"I still remember very well the five words of the urologist," Van Den Broucke said. "The scan is not good."
But he also flashes his strong will and determination to do battle with cancer.
"You can play the role of victim. Complain it's not fair," he said. "Or you can say, 'You know what, it is what it is, but I'm going to fight. And that's what I did – and am doing."
Lecoutere said despite the challenges he faced with cancer and some of the bad days he had, he never gave up. It was that fierce will that she knew and admired from when she first met him.
"I did not live with an ill man," she said at his funeral. "Even though the sword of Damocles hung over us constantly, we carried on making plans…traveling, even if it was challenging sometimes, like having radiation therapy at 8 a.m. and then heading to Vancouver, Canada by noon."
She said he grew even more attentive to family and friends. Meeting them was a priority and he wouldn't postpone them. There was planning to do things in the future, even if they didn't know how much future was actually left for them.
Lecoutere said her husband's willingness to be so open and transparent about his illness made it easier for everyone else around him to feel at ease and treat him the way they'd always treated him – not as a sick person but as the funny storyteller. The gifted, active athlete. A friend. A father. Grandfather.
He was, in the end, a dedicated husband, a loving father and remained a leader at Amgen – even if this time he wasn't and employee, but instead, was a patient.
"What I want to say is that the way you are looking at certain things, if you are looking at the positive side, it helps you a lot," he said in the video. "My lesson learned from that is – or maybe even a bit of guidance for some people is if you are healthy, you want to have 1,000 things. If you are sick, seriously sick, you only want to have one thing. Everything in life has its positives and, even with my diagnosis – which is not good – I am learning much more about making things relative."
He rested his hands on his lap and sat quietly. He had finished another story. Like the other stories he told – and like the life he lived – it would be remembered and shared. Forever.