June is National Cancer Survivor Month celebrating the more than 16.9 million people in the United States who have tackled the disease or who are currently in treatment. A diagnosis of cancer, like other serious illnesses, can lead to feelings of vulnerability and lack of control. According to the CDC Foundation's EmPOWERed Health program, becoming more empowered can be an important part of an individual's health care experience.
Research shows that patients who feel more in control and informed are more likely to go for recommended cancer screenings and engage in shared decision-making—meaning an individual and a healthcare provider play an equal (but distinct) role in healthcare decision-making.1 This can lead to improved health outcomes.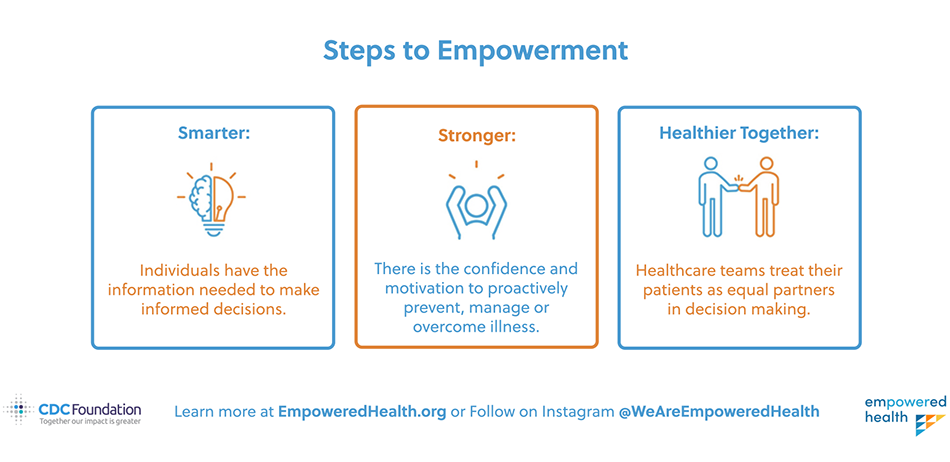 This concept is at the heart of the CDC Foundation's EmPOWERed Health program, supported by Amgen. The program, in its third year, is designed to provide resources and training to facilitate empowerment and shared decision-making across the cancer care continuum—from screening and prevention to treatment and survivorship, across all types of cancer.
Angela Dunbar is the Campaign Director of the EmPOWERed Health program. She is also a breast cancer survivor. Dunbar works closely with Aideé Granados, founder and CEO of ROSAesROJO, a non-profit organization supporting Hispanic women at high-risk for breast cancer through wellness and cancer prevention education and by sharing culturally relevant content. Aideé is also a breast cancer survivor.
The CDC Foundation is working with ROSAesROJO to ensure that the resources developed as part of the EmPOWERed Health program address cultural barriers to empowerment and shared decision-making, and that they are relevant and accessible to a Hispanic audience.
They recently shared their personal and professional perspectives on feeling and acting empowered.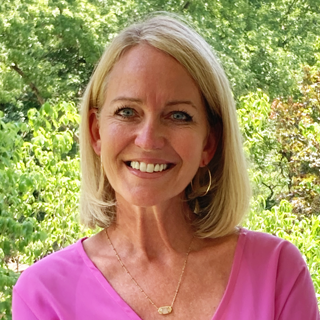 Angela Dunbar
Director of CDC Foundation's EmPOWERed Health program and Breast Cancer Survivor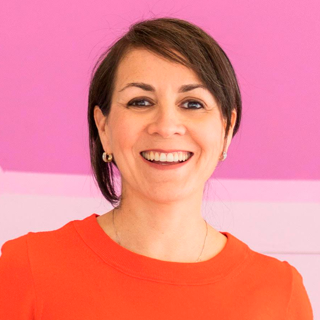 Aidee Granados
Founder and CEO of ROSAesROJO and Breast Cancer Survivor
Why is it important for patients with a cancer diagnosis to feel empowered?
Angela Dunbar: At the time I was diagnosed with breast cancer, I was already working on the EmPOWERed Health program and had spent a lot of time exploring what 'empowerment' really means, what its benefits are, and the different ways individuals can become empowered. While patient empowerment is often seen as a personality trait, one study suggested there is a better way to look at this issue: patient empowerment is a skill that can be fine-tuned or even learned. While empowerment may mean different things to different people, research definitively shows that feeling and acting empowered results in better physical and mental health overall.
This really struck a chord with me. At a time when I felt very vulnerable and overwhelmed, understanding that I could grow my skills of empowerment and potentially improve my health outcomes provided much-needed confidence and hope. I soon began to arm myself with the information I needed, and I spoke to others who had been through a similar experience—I found these connections incredibly empowering.
Aideé Granados: I was diagnosed in March 2013 with a malignant, invasive carcinoma in my right breast and lymph nodes. I was 36 years old. I arrived in the U.S. one year before the cancer diagnosis—no family and friends around me, not even my in-laws. I experienced the challenge of acculturation and language barriers. I have dealt with a system that did not consider my culture, ethnicity, socioeconomics, or my roots.
I have the privilege of health insurance, family support, a basic knowledge of English, and the opportunity to study and acquire knowledge about my disease and how to tackle it. However, today in the U.S., one in four Hispanic people live below the poverty line, and Hispanic people compose 57% of the nation's uninsured.2 The pandemic has also disproportionately affected us, further reducing coverage and isolating us from preventive care for things like cancer.
Social determinants of health such as these have repercussions: cancer is the leading cause of death among this group, yet 42% of cases could be prevented with the adoption of healthier lifestyles, for example getting the recommended cancer screenings, not smoking, and improving diet and exercise.3 Furthermore, when Hispanic women and our families do access care or wellness resources, it often doesn't consider our cultural context or home language, entrenching existing health disparities.
What challenges did you experience when it came to shared decision-making?
Aideé Granados: The language barrier made it challenging. I remember that I was writing everything down after my doctor's visits. I asked about all new medical terms, and sometimes, I asked my doctors to spell them out for me to make sure I could learn about them in my own language. It was exhausting. Some members of my medical team seemed cold and uninterested in who I was and what I was feeling emotionally, which made it difficult to feel empowered. I had the blessing of having great support from my leading oncologist, who was also an immigrant like me, but from Turkey. He could understand the value of culturally relevant medical attention to save lives, to save my life.
Angela Dunbar: Like Aideé, I was fortunate to have health insurance and a supportive network, so my challenges were more psychological. I am what you call a classic 'pleaser' who avoids confrontation at all costs. It was hard for me to question my doctor's recommendations, and I had to push myself. I discovered that simply asking the 'why' behind my doctor's recommendations, especially when I didn't like them, would lead to my doctor sharing the risks and benefits behind each choice. This conversation ultimately created a way for my doctor and me to make my treatment decisions together.
How do you help empower others? And why?
Angela Dunbar: As a breast cancer survivor, I feel compelled to help others going through cancer find their voice. Sometimes that means sharing information that helps them better understand their choices and what questions to ask their doctor, and sometimes it's just giving people permission to communicate what's important to them, and to take an active role in treatment decision-making. I was recently mentoring a friend who was just diagnosed with breast cancer. She was so upset that her surgery date was the same day as her daughter's year-end dance recital. I spoke with her about the importance of sharing her preferences with her doctor so decisions can be made together. She later told me she felt so silly that she didn't think to do this on her own, but just felt paralyzed. Her doctor changed the date, and she saw her daughter's recital! While this decision was just about timing, there are many other important decisions that are made during cancer treatment, and it's important you feel like you can share your voice.
Aideé Granados: I feel I have a huge responsibility to other Hispanic women like me, to my beloved Hispanic community. I have witnessed how Hispanic people need empowerment. I needed empowerment. There was information out there to prevent and reduce the impact of cancer, but in English and not rooted in our Hispanic culture. And when you are talking about matters of life and death, culturally relevant content and the support of a community is crucial to saving lives.
That's why I am so pleased to be working with the CDC Foundation on the EmPOWERed Health program. It's refreshing to see an organization as reputable as the CDC Foundation being so proactive in addressing the needs of the Hispanic population.
Angela Dunbar: It's so rewarding to work alongside a fellow cancer survivor, and we're thrilled to be partnering with ROSAesROJO as we work to tailor our content to a diverse audience.
The CDC Foundation is just one of more than 70 organizations Amgen is working with or sponsoring through cross-sector collaborations, public-private partnerships and advocacy relations programs. Visit this page to learn more: Amgen Patient Advocacy and Strategic Alliances.
---
Kaur, JS. How Should We "Empower" Cancer Patients? (2014) Cancer. 120 (20) 3108-3110.
Kaiser Family Foundation. Key Facts about the Uninsured Population. At: https://www.kff.org/uninsured/issue-brief/key-facts-about-the-uninsured-population/. Accessed June 8, 2022.
American Cancer Society. Cancer Prevention & Early Detection Facts & Figures 2019-2020. At: https://www.cancer.org/content/dam/cancer-org/research/cancer-facts-and-statistics/cancer-prevention-and-early-detection-facts-and-figures/cancer-prevention-and-early-detection-facts-and-figures-2019-2020.pdf. Accessed June 8, 2022.